"Chapter 16"
Previous and Next Episodes
Appearing in "Chapter 16"
Featured Characters:
Supporting Characters:
Antagonists:
Other Characters:
Races and Species:
Locations:
Items:
Synopsis for "Chapter 16"
Ptonomy's mind lives on within the Mainframe, the computer that makes up Admiral Fukyama's mind. He finds the Mi-Go monk hiding in a corner, apparently after preserving himself within the Mainframe after his attack on Fukyama. Ptonomy reads the monk's memories to find the location of the abandoned monastery where Farouk's body is buried. He then temporarily takes control over one of the Vermillions to tell David the monastery is in a place called Le Désolé. After using Cary's machine to find Le Désolé, David considers who at Division 3 he should bring with him. So the Shadow King won't be able to read anyone else's mind to find where his body lies, David comes up with an elaborate plan to lure everyone to Le Désolé instead. Before he leaves, David lets Lenny out of her holding cell so she can be at Le Désolé when he needs her to be there.
The Shadow King, meanwhile, learns of the location of his body from an old associate of his. He and Oliver head towards the monastery, but Le Désolé warps time and space to make the monastery appear to "move" throughout the desert, another safeguard to prevent Farouk from finding his body. Despite this, Farouk says David is still far behind them. David is similarly lost in the desert when Syd suddenly parachutes out of a plane and forces David to take her with him. That night, David and Syd find what appears to be their decomposed corpses inside a tent. At headquarters, Melanie, apparently under Oliver and the Shadow King's psychic control, attacks Clark before he can act on the idea David planet in his head. Farouk entered her mind, and came face-to-face with the Minotaur inside.
Cast
See Also
Recommended Reading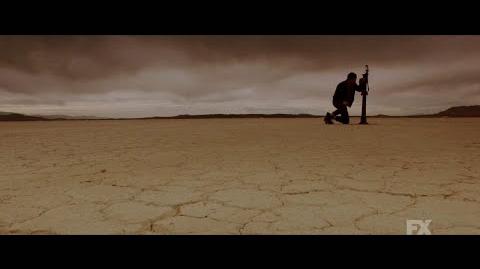 Links and References
Footnotes
Like this? Let us know!
Community content is available under
CC-BY-SA
unless otherwise noted.