Doctor Strange in The Multiverse o Madness - The Loop
Play Sound
This page currently treats of Lemuria, from half a million years ago to the modern age, where two Kingdoms of Lemuria (one Deviant, the other "Atlantean") co-existed.
Lemuria is one of the oldest surviving civilizations.[19]
Lemuria was apparently the only continent where modern man dwelt half a million years ago.[20]
During the Pre-Cataclysmic Age (from about 100,000 until the Great Cataclysm),[21] Lemuria remained one of the great continents of its era, and was ruled mostly by the Deviants and their human slaves.[1]
After the Great Cataclysm, Lemuria was partly retrofitted by the Deviants, while other parts later became the home of the underwater race known as the Lemurians. Lemuria was founded by a splinter group of Homo mermanus[1] who made their way to the Pacific Ocean whereas Atlantis had been in the Atlantic.[22]

History
Facts
Flora
The Crystal Rose was a crystaline plant from Lemuria (who would later hold a king's ransom value in the Hyborian Age of Conan).[23]
Alternate Realities
The Lemurians were surface-dwellers, that ruled the surface, while Atlantis ruled the seas, as dictated by their treaty, which was law, for nine millenia. They used the Atlantean city of Sestanivor as an embassy. As such, it had rooms for oxygen breathers. To protect its citizens, the city had a cordon of telepathic beacons to ward off deep sea predators. The city was the site of nesting for the Tan-Ed-Drul - the species the lead to the fall of the Atlantean empire.[24]
Points of Interest
At the time of the Dragon Kings' rule, of the coming of the first men, and of the Thousand Years War:[25]
Hyperborea and the monolithic cities of black stone of the Dragon Kings[25]
Men's cities:
---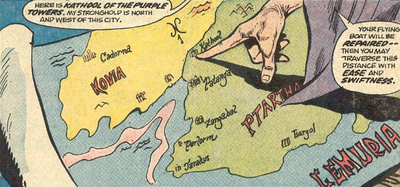 In the times of Thongor, about almost half a million years ago:[26]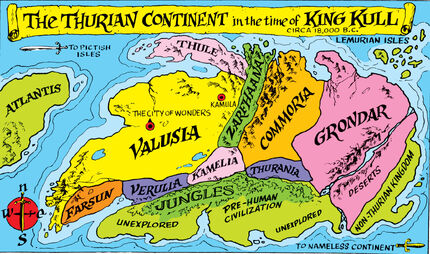 ---
---
---
Residents
Age of Dragons:
---
Age of Men at the time of Thongor, about almost half a million years ago
---
---
---
Notes
See Also
Links and References
References
Like this? Let us know!