This page possibly merges different locations (
see notes
), and could be split in the future depending on the publication of new material.
Overview
Leng was a land in the Frozen Land of the South Pole. The Mountains of Madness, where the Old Ones built at least some of their cities, was set within Leng.[3]
History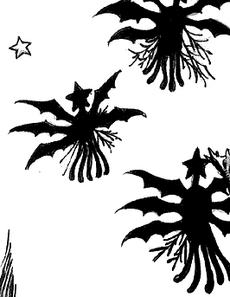 Rise and Fall of the Old Ones
The star-headed Old Ones were a strange elder race that came from the stars, and who settled on Earth.
Served by their slaves, the Shoggoths, huge tentacled lumps or blobs, the Old Ones built a gigantic city in the Mountains of Madness.
Those Old Ones seemingly lost of their skill at the time they built a second city nearby.
Eventually, the Shoggoths killed their masters, and at least one of them remained in the Mountains of Madness, where it ushered the word "tekeli-li" relentlesly.[3]
At some point, albino-skinned humans came to live in the land of Leng. They eventually came to fear the monstrous Shoggoth, which they named after its cry, "Tekeli-li", "the Death that Flows".[3]
The legends about "snow-skins", a "great isle of ice",[5] the Frozen Land, and the fabled Mountains of Madness eventually spread at least to the Southern Isles.[2]
During the Hyborian Age of Conan, the snow-skins were ruled by Snow Queen. Her daughter, Ta-No, was born to become queen herself, but ran away, preferring to risk death rather than fulfil the path chosen for her.[3]
---
At some point, Ulysses Bloodstone somehow came into possession of a set of Neolithic scrying stones from Leng Plateau, which ended up in his curios.[1]
Alternate realities
The Revengers possessed an item known as the Leng Lens, which Scarlet Witch used to analyse Earth-616's Quasar and track his energy trail, as a way to find the Fault and invade his universe.[6]
From Salem Center, Erich Zann noted the Hounds of Tindalos baying in the frozen wastes beyond Leng.[4]

Points of Interest
Residents
Residents included, at different eras:
Notes
See Also
Links and References
Footnotes
Community content is available under
CC-BY-SA
unless otherwise noted.