Marvel Super Heroes Campaign Set:
Machines of Doom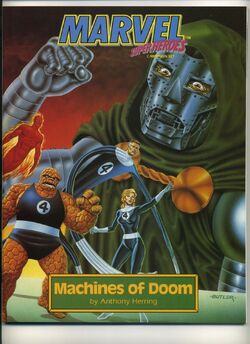 Title
Marvel Super Heroes Campaign Set:
Machines of Doom
Novel Details
Appearances
Featured Characters:
Supporting Characters:
Villains:
Doom's robots:
Other NPC's:
Other Characters:
Locations:
Items:
Vehicles:
Plot
A RPG-based compilation of machines & robots built by Dr. Doom, including information from Earth-616 continuity and extra details (e.g. what ever happened to a machine after one of its appearances). It also includes RPG rules to build and re-program this kind of technology
Notes
Other credits include:
Design: Anthony Herring
Editing: Steven E. Schend
Art Coordinator: Peggy Cooper
Interior illustrations: Jerry Ordway & John Statema
Graphis Director: Stephanie Tabat
Typography: Tracey Zamagne
Cartography: Dennis Kauth
Production: Paul Hanchette
Trivia
This book is missing a number of Doom's named devices, even assuming that devices built by alternate Doctor Dooms without Earth-616 counterpart are not to be included. Missing machines include:
3-D Playback Tape[1]
Doom's specially designed cells for the X-Men:[12]
Electronic Spy (aka Mechanical Spy-Eye)[18]
"Faintly humming machine" protecting Latverian embassy.[1]
Interstellar ship[26]
Invincible Man armor[27]
Metal tendrils blasting fire-stroked heat reays at the Latverian embassy.[1]
Open, two-men flying vehicle.[35]
Unnamed device to keep Doom warm during his Tibetan quest, also used as a weapon against a Yeti.[35]
Doctor Doom's unnamed personal jet vehicle[45]
Doctor Doom's unnamed spherical transatlantic vehicle[4]
Doctor Doom's unnamed submarine fighter vehicles[4]
Doctor Doom's unnamed teleportation device[46]
This book has a number of typos, including:
See Also
Links and References
Footnotes
Like this? Let us know!
Community content is available under
CC-BY-SA
unless otherwise noted.