Previous Issue
Next Issue
—
Appearing in "Magneto: Not a Hero (Chapter One)"Edit
Featured Characters:
Supporting Characters:
Antagonists:
Other Characters:
Anti-mutant group

(Only appearance; dies)

[1]
Locations:
Items:
Iron Man's "rubber" armor
Surge's diary
Magneto's magnetosphere mapper
Vehicles:
Solicit SynopsisEdit
The X-Men are shaken when Magneto finally goes villain again. The Master of Magnetism is caught on video murdering members of an anti-mutant group. Why did he throw away everything he's earned with the X-Men? Or is this just the only time he's gotten caught? This new series by SKOTTIE YOUNG (WIZARD OF OZ) and CLAY MANN (X-MEN LEGACY) will change the way you look at the best X-Villain of all time!


Notes
Trivia
Recommended ReadingEdit
Links and ReferencesEdit
Footnotes
↑

First and only known appearance to date besides flashbacks
---
---
Reviews
I flipped through this at the shop and than ended up buying it. That doesn't happen too often for me.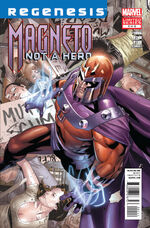 I really liked this issue, but especially the end. I was, to say the least, pleasently surprised.

WARNING: THERE WILL BE SPOILERS

So there's the whole beginning part with 'Magneto' going crazy and killing some humans who are having a rally for hating mutants. Than Iron Man and Captain America of the Avengers go talk to Magneto and Cyclops. Magneto insists it wasn't him, and Cyclops backs him up. Iron Man is even wearing a rubber suit! ha!

So Magneto almost picks a fight with Iron Man, while lifting up all the cars around the building they're in-that was pretty cool. Unfortunately Cap breaks them up. Anyways, long story short, Cyclops and Magneto look around to see who-or what-could be behind this. See who-or what-this Magneto is. And they find out it's none other than JOSEPH. WITH a new BROHERHOOD.

You better believe it. So, I really enjoyed this issue. The art was perfect, and the story was as good as the first issue could have been. But, it was just that- the first issue. Not too much action. So I'll give it a 4.5 out of 5. And that's actually saying a lot.

--Johnnybravo44 (talk) 23:20, November 9, 2011 (UTC)