History
Overview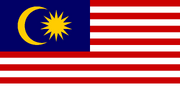 Malaysia is a federal constitutional monarchy located on the island of Borneo. The capital city is Kuala Lumpur, while Putrajaya is the seat of the federal government.
Events
Omegex the destroyer landed on Earth next to the city of Kuala Lumpur.[1]
Points of Interest
See Also
Links and References
References
Like this? Let us know!