Wiki Targeted (Entertainment)
Play Sound
I offered you peace and order!
Appearances
Featured Characters:
Supporting Characters:
Villains:
Other Characters:
J. Jonah Jameson

(Appears on a computer screen, TV, or hologram only)

Squadron Supreme

(First appearance)

(Appears on a computer screen, TV, or hologram only)

(Cameo)
Locations:
Items:
Vehicles:
Squadron Supreme's Citadel
Synopsis
Hyperion arrived on Earth as it was threatened by large meteors (implied to be the remains of Hyperion's homeplanet). Although the Avengers were able to stop most of the asteroids, Hyperion destroyed the largest one, an "earth-killer", making him the day's hero, even earning the admiration of J. Jonah Jameson. Not long after, Hyperion invited the Avengers, who had taken an interest in the new hero, to his Citadel, where he shared with them his "tragic" story. Hyperion is a superhero from an alien world, where he, along with his team, ruled with an iron fist. When the people rejected his rule, Hyperion destroyed the planet. As the only survivor, Hyperion began his search for a new planet he could "save". However, the Avengers soon saw through his lies and became worried about Hyperion's extreme ways after witnessing him deal with the Wrecker. Although Hyperion was a worthy foe, the Avengers were able to take the rogue hero down, and imprison him in a place where he could never break out.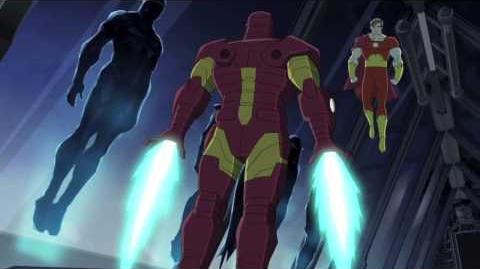 Trivia
The final scene in the episode serves as a reference to a very similar scene in the end credits of Earth-199999 Marvel's The Avengers movie, where the same team of 6 are seen eating shawarma after the Battle of New York.

Also, Thor breaking a mug and asking for another drink is a reference to similar scene in Earth-199999 first Thor movie.

File E-712 is a reference to Earth-712 home of the original Squadron Supreme's Hyperion.

Unlike the comics, Hyperion's homeworld is depicted as an alien planet rather then an alternative version of Earth.

Hyperion being depicted as an alien is a closer rendition of Superman.

Quagmire is a reference to a character of the same name, one of the Squadron's enemies in the comic books.
See Also
Links and References
Footnotes
Like this? Let us know!