"The Kids Are Alright"
Previous and Next Episodes
Embiggen!
Appearing in "The Kids Are Alright"
Featured Characters:
Supporting Characters:
Villains:
Other Characters:
Races:
Locations:
Items:
Synopsis for "The Kids Are Alright"
Captain America and Iron Man join forces with Inferno and a new Inhuman named Ms. Marvel when they fight a stray Ultron robot. Despite his discomfort with how young the new heroes were, Captain America admired their "moxie" and invited them on a tour of Avengers Tower. Ms. Marvel was exuberant to meet some of her greatest heroes. However, the tower was soon after invaded by Ghost, an enemy of Iron Man's who had also gained powers from the Terrigen wave. Ghost quickly incapacitated and abducted the other Avengers, stole Captain America's shield and Iron Man's armor, jammed every signal in the tower, and sent the roof caving in. The teenagers saved the older heroes but Ghost soon found them again, abducted Inferno and stole Friday, Iron Man's advanced AI system. Now that he had what he came for, Ghost released his hostages and used his powers to phase the ground underneath the tower to bury the heroes alive. Fortunately, Inferno was able to turn himself into a human rocket engine, overcoming gravity and bringing to tower back up. Meanwhile, Ms. Marvel was able to rush Iron Man back to his lab to engineer a way to block Ghost's powers. With the tower back online, Ms. Marvel defeated Ghost for good by repeatedly slapping him with her enlarged hands. Friday was returned to the Avengers, and just as the teens were about to go home, Iron Man admitted that the pair had earned his respect. Captain America told them that they had the potential to be Avengers someday, and gladly took a selfie with them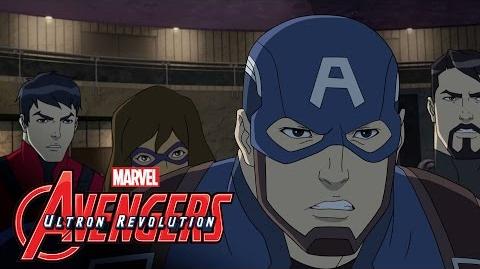 See Also
Links and References
Footnotes
Like this? Let us know!
Community content is available under
CC-BY-SA
unless otherwise noted.