Previous Episode
Next Episode
Don't take this the wrong way, but I hope I never see you again.

-- Tandy Bowen to Tyrone Johnson
Appearing in "Stained Glass"
Featured Characters:
Supporting Characters:
Antagonists:
Other Characters:
Locations:
Items:
Vehicles:
Synopsis for "Stained Glass"
Tyrone tries to help Tandy after he caused her car to crash into a tree, but Tandy understandably doesn't trust him. She drives away as the police get closer, leaving Tyrone to fend for himself. Tandy finds her mother and her boyfriend passed out when she gets home. She gets into a fight with her mother after she wakes up, but Melissa quickly changes her tone when she sees a large wound Tandy received in the crash. Detective Brigid O'Reilly shows up at the door and asks Melissa if she's seen her daughter. Melissa lies and tells her she hasn't seen her in weeks. Detective O'Reilly wants to come inside and look for Tandy, but Melissa's boyfriend - a lawyer - reminds her that she can't enter without a warrant. The detective gives Melissa her card and says she's only trying to help Tandy, as she figured out Tandy was only defending herself. Tandy, however, ran away while Melissa distracted the police. Attempting to run away again, Tandy boards a bus and starts to fall asleep.
Tyrone hides from the police in the bushes. The next day, his classmate Evite overhears him praying in the school's chapel about being "cursed." Evita invites Tyrone to come on a tour of New Orleans Vodoun history she conducts because she believes the power of Vodoun can help heal him. After the tour is over, Evita brings Tyrone to meet her aunt, a practitioner of Vodoun magic, so she can perform a ritual on him. Tyrone and Evita take the ingredients for the ritual back to Tyrone's house so he can fall asleep while bathing in them.
Tandy and Tyrone are drawn into each other's dreams. Tandy sees Tyrone attempt to avenge Billy's death, picking from a table a weapon he will use to kill Detective Connors. Each attempt ends with the police killing Tyrone, only for Tyrone to come back and try again with a different weapon. Tandy begs him to stop this and try something different, so she puts one of her light daggers on the table. The dagger transforms into a pair of handcuffs. Tyrone, meanwhile, sees Tandy watching as Roxxon executives, inside a glass box, ruthlessly terminate and waterboard her father while ignoring her mother's pleas. Tandy runs away from the box, sinks into mud, and the nightmare starts over with another vision of Roxxon. Tyrone uses his shadows to prevent Tandy from running away. Tandy summons a dagger of light that first penetrates Tyrone's shadows and then the glass box. Tyrone is then brought outside a church where Tandy, as a child, is giving the men in her life pills as if she were giving them the eucharist.
In the real world, Detective Connors gives Detective O'Reilly Rick's I.D., which he pulled off a passed out junkie. He tells her to consider the case closed as this is enough to prove he was stabbed in a mugging. She doesn't want to give up on the case, however, but is soon contacted by Tandy. She meets with Detective O'Reilly and tells her her side of the story. When Tandy gets back to the abandoned church she lives in (the same one from her dream), Tyrone is already there waiting for her.
Notes
Trivia
See Also
Cast
Recommended Media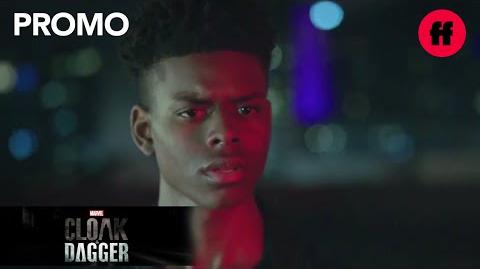 Links and References
Footnotes
Community content is available under
CC-BY-SA
unless otherwise noted.