Previous Episode
Next Episode
Appearing in "Princeton Offense"
Featured Characters:
Supporting Characters:
Antagonists:
Other Characters:
Locations:
Items:
Vehicles:
Synopsis for "Princeton Offense"
While Tandy continues her personal investigation into Roxxon, Tyrone talks to Detective O'Reilly about Connors. O'Reilly has her doubts about being able to take down Connors, as his murder of Tyrone's brother was covered up and "Connors" isn't even a real cop - vice detectives live double lives to protect themselves while undercover. Tandy surprises Tyrone by showing up at his school to show him she can control her powers and so she can use the school's computer lab to look into Roxxon. She says there is a "hole" in the middle of her father's papers that are preventing her from connecting all the dots, so she gets information on three lower-level Roxxon executives that she think can help her fill in what's missing.
Tyrone prepares for the finals that night. Before the big game, he overhears his mother talking about how even though Peter Scarborough is one of her biggest clients, she will have to skip the Roxxon gala to see Tyrone play. He is suddenly teleported to an auto shop where Duane, one of Billy's old friends, works. Duane quickly recognizes Tyrone, and is surprised that he would suddenly show up just as he was thinking about him. Tandy, meanwhile, pretends to be a high class escort so she can get into the Roxxon gala, and then get close enough to the executives that she can see their hopes with her powers. She sees each of them tormenting the same older man, who must be the missing link that connects all of her father's papers.
Tyrone is suddenly teleported right next to Tandy as he loses control over his powers during half-time. While she talks to Tyrone about what she's discovered, she recognizes the older man in their hopes on a poster and identifies him as Peter Scarborough. To get Tyrone back to the game, Tandy pushes him over a ledge, as a near-death experience is what allowed Tandy to gain greater control over her powers. Tyrone is sent back to the gym just before half-time ends. Although Tyrone, with newfound control over his abilities, plays a great game, he misses the game-winning shot to give the win to the other team. At the gala, Tandy runs into a young woman so nervous with stage fright she appears drunk. She helps the woman gain her composure before she goes on stage to talk about her father.
Tyrone finds Evita waiting for him in his room. He's surprised she doesn't want to break up with him after losing the game for St. Sebastian's, and they spend the night together. Tandy arrives at Peter Scorbough's house, pretending to need to use his phone to call someone to change a tire. She has an opportunity to attack Scarborough with one of her knives while he changes her tire himself, but instead looks into his hopes. She sees him pulling rolls of cash out of the Gulf, and then out of the bodies of dead Roxxon employees who drowned in its waters. Tandy sees one of the deceased workers' helmets belongs to Ivan Hess.
Connors catches Detective O'Reilly in the evidence locker snorting drugs she took off a club dealer, an act just to get Connors to lower his guard around her. After Evita leaves Tyrone the next morning, Tyrone is suddenly taken back to Duane's shop, where he overhears Duane arguing with Connors about Detective O'Reilly picking up one of his dealers. He also hears Duane say he knows Connors killed Billy. Meanwhile, Tandy finds the name "Ivan Hess" on the back of her father's blueprints for the Roxxon oil rig. Furthermore, she discovers Ivan Hess' daughter Mina was the nervous woman she ran into at the gala the night before.
Notes
Trivia
The record of drugs busts in the 12th Ward refers to Connors as "Agent M."
See Also
Cast
Recommended Media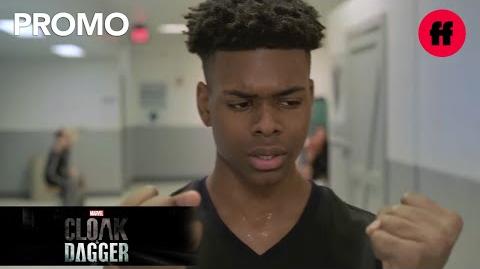 Links and References
Footnotes
Community content is available under
CC-BY-SA
unless otherwise noted.