Previous Issue
Next Issue
—
Appearing in "Spider-Man!"
Featured Characters:
Supporting Characters:
Antagonists:
Other Characters:
Races and Species:
Locations:
Items:
Synopsis for "Spider-Man!"
Part 1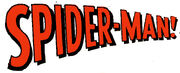 A shy, unassuming high-school student, Peter Parker prefers the company of his teachers to that of his classmates, who call him "Midtown High's only professional wallflower." His only living relatives, Uncle Ben and Aunt May, think the world of
him.
One evening, while attending a demonstration of radioactivity at General Techtronics Laboratories East, Parker fails to notice a spider drop through a "radioactive ray" and receive a massive dose of radiation. It bites him and dies. Light-headed, Parker leaves the demonstration, only to be nearly run over by a car. He leaps to safety but is surprised to find he has jumped much further than intended—he lands on the side of a building and clings to the bricks by his fingertips. He quickly climbs to the roof and, once there, accidentally crumples a steel pipe in his hand. He believes that he has inherited the spider's speed, strength, and climbing ability. He begins to ponder the possibilities.
Shortly thereafter, Parker sees a wrestling ring and a sign: "$100 to the man who can stay in the ring three minutes with Crusher Hogan." He goes home, changes, puts on a hood, and returns to the ring. Hogan laughingly calls Parker the "Masked Marvel," but Parker lifts Hogan over his head and carries him up a post. Afterward, a man in the crowd introduces himself to Parker as a television producer, encourages him to go into show business, and gives him his card.
At home, Parker makes himself a spider-themed costume, a supply of sticky web fluid, and two jets for his wrists that can shoot the fluid. "Here comes the Spider-Man!" he says.
Part 2
The Spider-Man appears on television and becomes a celebrity. One evening, he goes backstage and finds a guard chasing a thief. Spider-Man lets the thief escape and, when the guard complains, tells him, "That's your job! I'm thru being pushed around ... by anyone!"
Some days later, Parker returns home and learns from a policeman that a burglar has killed his Uncle Ben. The police have cornered the man in the deserted Acme warehouse. Parker dons his costume and swings to the scene.
Once inside, he frightens the man by crawling down the wall toward him. Parker then covers his gun hand with web fluid and knocks him unconscious. When he sees the man's face, he recognizes the thief who got away at the studio. He wraps the burglar in webbing and leaves him for the police to find. Shocked, Peter realizes that, if he had caught the burglar, his Uncle Ben would still be alive. He eventually learns that with great power comes great responsibility.


Appearing in "The Hulk"
Featured Characters:
Supporting Characters:
Antagonists:
Other Characters:
Races and Species:
Locations:
Items:
Vehicles:
Synopsis for "The Hulk"
Part 1: The Coming of the Hulk
At an Army base in the desert, Dr. Bruce Banner is readying the first test of his invention, the G-Bomb. General "Thunderbolt" Ross wants to know why Banner keeps delaying the test. His daughter Betty tries to calm him down, with little success. Banner tells Ross that the final countdown has begun. His assistant, Igor, demands that Banner share his work so that someone may check his calculations. "I don't make errors, Igor," says Bruce, and, when Igor threatens him, "You know how I detest men who think with their fists."
Banner takes a last look at the bomb with binoculars. He notices a teenage boy in a car, tells Igor to halt the countdown, and hurries after the boy in a jeep. Igor, who supposedly defected to the U.S. from the Soviet Union, is a spy and decides not to stop the countdown so that America will lose its greatest nuclear physicist. Banner gets the boy into a trench, but, before he can jump in himself, the G-Bomb explodes! Gamma rays saturate Banner's body.
Hours later, Banner regains his senses. The boy, Rick Jones, who drove onto the base on a dare, brought him back to base. Banner waits for some kind of symptoms to appear. When night falls, Jones turns on a "radio," actually a Geiger counter. Its clicking increases, and Banner changes into a huge grey figure. "Get out of my way, insect," says the figure, shoving Jones aside. He pushes through the wall, wrecks a jeep full of soldiers when it hits him, and wanders off to hide. Jones follows.
Part 2: The Hulk Strikes!
The thing that was once Banner, with Jones trailing him, sneaks past the soldiers trying to find him and finds Banner's cabin. Inside, Igor is trying to find Banner's notes. He shoots at the Hulk, without effect. The Hulk takes away his gun and crumples it with one hand. He picks up Igor and slams him down on a lab bench. Jones notices a folder taped to the bottom of a large beaker, labeled "Top Secret: Report on Gamma Ray Bomb," and takes it. The Hulk picks up a photo of Banner and says, "I—I know that face!! But it is weak—soft!! I hate it! Take it away!" Jones reminds him that he is Banner. The Hulk briefly remembers what happened, then says, "I don't need you! I don't need anybody! With my strength—my power—the world is mine! As for you—you are the only one who knows who I really am!" He advances on Jones. The sun comes up at that moment, and the Hulk changes back into Banner.
Part 3: The Search for the Hulk
The MPs storm in, arrest Igor, ask Banner about the Hulk, take the folder, and leave. Betty comes to apologize for her father's outburst and tells him he should get medical attention. Banner says he'll call her and shows her out. He tells Jones that he's afraid he will change again at sunset.
Part 4: Enter... the Gargoyle!
In his cell, Igor uses a transmitter overlaid on his thumbnail. The message finds its way to the Gargoyle, a deformed Soviet scientist and secret agent, who travels by submarine and short-range missile to the desert. Banner and Jones take a jeep out into the desert before night falls, in case he changes again. He does change, and the Hulk wrecks the jeep. He recognizes the area near Ross's house and decides to visit Betty. At the same time, Betty decides to take a walk. She encounters the Hulk and faints in his arms. The Gargoyle appears.
Part 5: The Hulk Triumphant!
The Gargoyle shoots the Hulk and Jones with drug-filled bullets, making them like robots. They follow him to a truck, whose driver also gets shot. Ross finds Betty, who was frightened by her encounter but says, "In spite of everything, there was something... something sad about him!! Almost as though he was seeking... help!" Ross says, "If it takes an eternity, I'll find that monster!"
The Gargoyle and his captives reach a sub on the coast and get into a jet. As they streak towards the USSR, the sun rises on the Hulk, who changes back into Banner. Upon landing, the Gargoyle is astounded to find a man instead of a monster. He begins to cry, because he wants to be normal too. Banner treats him with radiation, which makes him look normal but takes away his super intelligence. The man who was once the Gargoyle realizes how the state has used him, so he puts Banner and Jones on a jet for home and blows up his base along with himself.


Appearing in "Return of the Ant-Man"
Featured Characters:
Supporting Characters:
Antagonists:
Locations:
Other Characters:
Henry Pym's research assistants
Items:
Synopsis for "Return of the Ant-Man"
Doctor Henry Pym is a scientist who had invented two incredible serums, one to reduce objects, and the other to enlarge them back to their natural size. The reducing potion proved more powerful than he anticipated. It reduced him to the size of an insect and led him to the most frightening encounter of his life within a teeming ant hill. Frantically, Pym escaped from the ants and reached his enlarging serum. After he was restored to normal size, Pym destroyed his serums, which he felt were too dangerous to exist on Earth. However, weeks later he decided that such a great discovery should not melt into nothingness and concocted his serums again, this time locking them safely away in his safe.
After his experience in the ant hill, Henry Pym developed a growing interest in ants. Secretly, he made a thorough study of the ant world and determined that ants communicate electronically through their antennae. After long months of grueling work, he finally developed a helmet that would enable him to communicate with the ants by tuning into their specific wave length. Pym also designed a protective costume to shield him from accidental ant-sting or bite.
On the same day that he completed work on his helmet, the government gives Henry Pym a top secret scientific assignment to develop a gas to make people immune to radiation and provides him with four research assistants. Weeks later, the communists have learned of Pym's work and have dispatched agents to steal the almost-completed formula.
Communist agents burst into Henry Pym's laboratory and hold him and his research assistants at gun point, demanding the anti-radiation formula. When Pym refuses to divulge the formula, the agents decide to search the lab and find the information themselves. Trapped in his lab, Pym decides that the only way to prevent the communists from getting the anti-radiation gas is to use his reducing serum. Donning his newly completed helmet and costume, Pym uses his reducing serum to shrink to insect size.
Now ant-sized, Ant-Man uses a rubber band as a slingshot to hurl himself to a nearby window ledge, where he slips through the window crack and uses a piece of thread to lower himself to the ground.
Part 2: An Army of Ants!
His destination is the ant hill, where he learns that his cybernetic helmet actually works, allowing him to communicate with and command the ants. He is attacked by a large worker ant. As he fights the ant, he learns that somehow, he retains the strength of a full-grown man at his diminished size. After defeating the worker ant, Ant-Man adjusts his cybernetic helmet and sends a command through the ant hill, forming a small army of ants.
As Ant-Man exits the ant hill, his colorful costume attracts the attention of a beetle. Using his full-size strength, he quickly digs a deep hole, uses himself as bait to lure the beetle into it and then fills in the hole, trapping the beetle.
Ant-Man then mounts the largest of the worker ants and leads his army up the wall and onto the window ledge near his lab.
Part 3: The Ant-Man's Revenge!
After observing the communist agents, Ant-Man slips into the lab and with the help of the ants, unties his assistants. He then commands the ants to attack the agents, distracting them long enough for Pym's assistants to overpower them.
With the communist agents defeated, Ant-Man heads for his laboratory, where he uses his enlarging serum to return to normal size and rejoin the others in the lab. Pym is left wondering if he will ever be forced to become the Ant-Man again?


Appearing in "The Birth of Giant-Man!"
Featured Characters:
Antagonists:
Other Characters:
Races and Species:
Locations:
Items:
Synopsis for "The Birth of Giant-Man!"
Our story opens with a giant Henry Pym (in a new costume) smashing through his own home and frightening off one of his own neighbors. We learn that he has developed a new type of formula that allows him to grow in size, and is now taking on the identity of Giant-Man. The Wasp helps him free himself from the house and Giant-Man explains that he was testing his new size-changing capsules. Giving her a demonstration, Pym grows to the height of 12 feet.
Meanwhile, Pym's frightened neighbor arrives at the police station to make a report about a giant man. The police tell him that they're too busy looking for a "pixie" that is apparently erasing people. Later, at a local park, a police team is searching for a being they're calling "The Eraser." The Eraser is hiding in the woods until he's discovered by a hot dog vender. Not wishing to have his presence alerted, he "erases" the hot dog vender. Later the Eraser travels to the home of Dr. Ebbhart, explaining that he's been "erasing" atomic experts, and that his next target is Henry Pym.
Back at Pym's residence, Henry is explaining how the size-changing capsules work and fits himself and the Wasp with belts that dispense different size-changing capsules for easy access. Wasp takes a size-changing pill and shrinks down to wasp size and lands on Pym's finger. Just then the Eraser arrives and erases Henry (and unintentionally the Wasp), who finds himself in "Dimension Z." The Eraser follows him shortly.
The Eraser explains that their world is in a different universe that shares the same space with Earth and that they have been monitoring the people of Earth for years. When they learned of mankind's ability to create the atomic bomb they sought to claim the technology to do so and invented their "erasers."
Refusing to aid them, Henry Pym tries to escape but is ensnared in "clinging bands." At this point the Wasp comes out of hiding inside Henry's coat and feeds him a shrinking capsule to escape the trap. In their diminutive size, Pym and the Wasp escape the guards and their hunter hounds. Donning his Giant-Man costume, the two heroes travel through the air ducts and find the scientists and alert them of their presence and intentions to free everybody.
Taking a growth capsule, Giant-Man storms the city, easily defeating the guards and their weapons. He captures one of Dimension Z's scientists and forces him to bring them to the lab where the erasers are kept. There Giant-Man is trapped in a unbreakable glass cage by the Eraser, who tells him that he has the only eraser on the planet. Too busy boasting over his victory, the Eraser doesn't notice that the Wasp has triggered the device to free Giant-Man. Giant-Man easily defeats the Eraser and takes his devices. Returning to the prisoners, Giant-Man uses the devices to send them all back to Earth's dimension.


Appearing in "Seven Against the Nazis!"
Featured Characters:
Supporting Characters:
Antagonists:
General von Ritzik
German soldiers
Other Characters:
Locations:
Synopsis for "Seven Against the Nazis!"
(Part 1) untitled
Pierre, a French Underground agent, sends a radio message to the commandos while Henri holds off the Gestapo. He manages to finish the message before the Nazis arrest them. In England, "Happy Sam" Sawyer gets his orders: send his Able Company behind enemy lines to rescue La Brave, the leader of the Underground, who knows when D-Day will take place. Sawyer sends Sergeant Nick Fury to gather up the 1st attack squad, who are on the infiltration course, learning to dodge live ammo from Corporal Dugan's machine gun. That night the squad heads for France aboard a C-46 transport plane. Luftwaffe fighters attack and damage the plane; the pilot advises Fury that they may not reach the drop point. The commandos bail out.
Part 2: Seven against the Nazis!
Fury's squad reaches a town and witnesses the Resistance blow up a Nazi command post. When the enemy commander orders up tanks to raze the town in retaliation, Fury jumps onto the lead tank, fires into the viewslit, and tosses in a grenade. The explosion blows him off the tank and injures him. Dugan and Juniper drag him into an alley. Cohen, Manelli, and Ralston duck into a house, prepare a Molotov cocktail, and toss it onto a tank. A squad of soldiers go after them but get ambushed by the Resistance. Manelli changes into the officer's uniform and tells the squad firing on Fury to retreat. The Resistance fighters offer to lead the commandos to their leader, but first they must rescue the villagers. Manelli, still in the UberGruppenFuehrer's uniform, finds the Nazis preparing to execute their hostages. He takes a submachine gun from a soldier and starts firing ... at the Nazis! The other commandos and the Resistance fighters finish off the soldiers.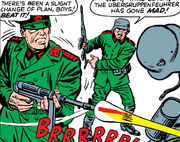 Cohen pulls up in a German halftrack. One of the Resistance fighters, a woman, goes with them to Louviers to identify La Brave. At the fortress in Louviers, General von Ritzik has not yet persuaded La Brave to talk; when Hitler calls, he allows the Gestapo to try. The Gestapo officer tells La Brave that they have his daughter and lets him hear her voice over a phone.
An old farmer smuggles the commandos into Louviers in his cart. They blow up the arsenal to create a diversion and slip into the fortress. Juniper and Jones stay at the entrance to hold off the returning soldiers. The others try to get across the courtyard, but a machine gun opens fire. Cohen goes up some stairs to get a shot at the gunner, but a squad captures him. Fury crawls across the yard with a bundle of dynamite and lobs it into the nest, but he's caught under a collapsing wall. Dugan and the woman press on, but a soldier with a flame thrower convinces them to surrender.
The Nazis prepare to execute the commandos in the courtyard. The Gestapo officer threatens La Brave's daughter again, who (it turns out) is Marie, the woman from the Resistance. Suddenly he falls, shot by ... Sergeant Fury! The commandos make short work of the other soldiers. All they need is a way to get to the coast. Cohen shows up with von Ritzik. With a Nazi general and his staff car, they easily reach their pickup point. La Brave and Marie stay behind to bolster the Resistance.


Appearing in "Iron Man Is Born!"
Featured Characters:
Supporting Characters:
Antagonists:
Wong-Chu

(First appearance)

(Apparent death)

Wong-Chu's Red Guerillas

(First appearance)
Other Characters:
Races and Species:
Locations:
Items:
Events:
Synopsis for "Iron Man Is Born!"
In a closely guarded lab, Anthony "Tony" Stark shows off a new invention to US military defense officials. He has developed micro-transistors capable of powering up things such as magnets; turning them into powerful weapons strong enough to pull open a thick metal door from a distance. They increase magnetic force a thousandfold! Stark impresses the military brass with his new inventions, while at the same time impressing the ladies of the international jet set with his dashing good looks and incredible personal wealth.
Across the globe, the evil Red tyrant Wong-Chu takes over another small village in Vietnam, defeating its strongest men in contests of judo. Meanwhile, Tony Stark has arrived in Vietnam to observe the testing micro-transistor-powered weaponry, which allow heavy items like mortars to be reduced in size no larger or heavier than a flashlight. Accompanying a squad of soldiers equipped with his weaponry on a patrol through the jungle, he accidentally triggers a tripwire that detonates a landmine. The wounded Stark is captured by Wong-Chu's forces and taken to their nearby headquarters. Wong-Chu realizes his prisoner is a "famous Yankee inventor" and decides that he will put him to work in service of the Communist insurgency even though doctors determine the young inventor only has days to live before "shrapnel reaches his heart."
Wong-Chu falsely promises that he will have a surgeon save Stark's life if he will agree to develop new high-tech weapons for him. Even though he saw through Wong-Chu's words to his true intentions, to make him work until his death, Stark agrees, in order to try and save his own life with his technical abilities and Wong-Chu's resources. Given access to scrap metal and tools, Stark promises he will deliver a "fantastic weapon," but sets out in building a mechanism that will help stop the shrapnel from penetrating his heart. He is given an assistant named Professor Yinsen, a famous physicist whom Stark had read about while in college. Working together, the two finalize work on Stark's project: an iron body suit with a chest plate that will keep the shrapnel at bay through use of transistor-powered magnets.
Just as Stark has donned the life-saving suit and begun to power it with electrical current from a generator, Wong-Chu attempts to come check on his prisoners. Professor Yinsen rushes out into the hallway shouting at Wong-Chu and is shot dead by armed guards, buying the precious seconds Stark needed to fully charge the armor. Tony Stark, as Iron Man, hears the murder of his friend and swears he will avenge his death. He tries to rise and steady himself in the Iron Man armor, but discovers it is like learning to walk again. He quickly gets the hang of operating the armor and evades detection from Wong-Chu by leaping to the ceiling and holding himself there using suction cups. After Wong-Chu leaves the room, the tyrant heads outside to "amuse himself" with his favorite sport, challenging the villagers to a duel of judo.
Iron Man descends from the ceiling and finds a coat and hat, with which to cover his armor, and wanders outside to find Wong-Chu tossing people around in the judo arena. Iron Man challenges Wong-Chu, then takes off his coat and hat to reveal the shocking visage of Iron Man! The metal monster walks up to Wong-Chu, picks him up, and twirls him around before tossing him into the brush. Wong-Chu demands that his guards open fire on Iron Man, but the bullets just bounce off the armored figure's metal chest plate. Iron Man then uses "reverse magnetism" to repel the enemy weapons. Wong-Chu tries to get to the speakers of the nearest building, in order to put a bounty on Iron Man, but Stark manages to create electrical interference and switch the radio's channel, telling Wong-Chu's troops through the speaker to flee their leader before the Iron Man "slays [them] all." Iron Man cuts down the building's door using a transistor-powered buzz-saw, but as soon as he enters the Communist menace fells him with a file cabinet loaded with rocks.
Wong-Chu escapes to order the execution of all his prisoners, but Iron Man, low on energy and too weak to continue pursuit, uses his armor's lubrication system to launch a stream of oil towards an ammunition depot near the fleeing Wong-Chu. He then sets fire to the oil stream using a miniature torch in one of the armor's gauntlets, causing the ammo dump to explode, and seemingly killing Wong-Chu. His batteries now recharged, Iron Man dons his coat and hat and walks away into the jungle.


Appearing in "The New Iron Man Battles... The Mysterious Mr. Doll!"
Featured Characters:
Supporting Characters:
Antagonists:
Other Characters:
Locations:
Items:
Synopsis for "The New Iron Man Battles... The Mysterious Mr. Doll!"
Pepper Potts delivers the news to Anthony Stark that one of his business associates, steel tycoon Charleton Carter, has backed out of a deal. Stark doesn't understand why Carter has done this and drives to Carter's estate in order to take up the matter personally. Once there, he spots a suspicious man dressed in a strange costume slinking around in the shadows. He dons his Iron Man armor and sets out to investigate. Once inside the mansion, he sees Carter on the floor, cowering in fear, with the strangely garbed fellow standing over him. Carter tells the man to let him go, that he has complied with his demands and had cut off his business with Tony Stark, but the strange man continues to poke at a doll he holds in his hands, causing Carter to writhe in pain.
Iron Man enters the room and challenges the man. As Iron Man lifts him up into the air, the self-proclaimed Mister Doll rearranges the appearance of his clay doll to resemble Iron Man, and starts slowly squeezing it. This inflicts intense, claustrophobic pain to Iron Man, causing him to spin and fall off of Carter's balcony into the ocean. He nearly drowns before the pain subsides and he is able to crawl out of
the water. Mister Doll, thinking he has finished Iron Man for good, turns his attentions back to Carter.
Iron Man rushes back to his office to recharge his chest plate's batteries. Stark passes out for several hours after barely plugging himself in to the electrical outlet in time. Later that day, Stark tells Pepper to hold all calls, as he doesn't want to be disturbed for anything. He then sets about creating a new lighter set of armor that would place less of a strain on his heart.
Meanwhile, Mister Doll has been forcing more and more wealthy individuals to sign over their fortunes to him, and the police are unable to do anything, as it has all been done in the letter of the law. Mister Doll then decides to turn his attention to Tony, and begins to mold his doll in Stark's image.
Back at Stark Industries, Stark has completed construction on the components of his new red and gold Iron Man armor. As he dons the armor for the first time, he describes how it utilizes an intricate system of magnets to connect its form-fitting components to each other. As he puts on the armor's redesigned face mask, the new Iron Man, champion of champions, is born!
Sometime later, the police visit Stark Industries to inform Stark that Mister Doll has somehow been convincing millionaires to turn over their assets to him and they want his help set a trap so they can catch him in the act. As they leave, a guard is left to protect Stark. He tells the guard that he needs a few minutes of private time with Pepper so that he can ask her out on a date. Pepper is extremely excited by this, and though the guard is unsure, he agrees to leave the two of them alone in Stark's office. Much to her disappointment, Tony tells Pepper to keep up the act, while he sneaks out and finds Iron Man.
Iron Man arrives at the office and dismisses the guard. Suddenly Mister Doll appears on the scene and changes his doll to imitate Iron Man. Once again, he starts to press on the doll, causing Iron Man severe pain. He then commands Iron Man to chase out Stark's security guards. With Iron Man quivering under his control, Mister Doll explains how he stole his magical voodoo doll from a witch doctor in Africa and discovered he could use it to inflict pain in others. Mister Doll calls Iron Man a weakling and orders him to leave the room, but not to try to escape or he will cause him more pain.
Iron Man falls to the floor in severe pain and crawls into his laboratory. With the door locked behind him, he decides on a risky gambit. He will disable his chest plate, causing his heartbeat to slow down and prevent Mister Doll from being able to control his pain. With his chest plate disabled, he frantically works on a project that he hopes will allow him to defeat Mister Doll. When the project is complete, he reactivates his chest plate and sets forth to confront Mister Doll again.
As Iron Man barges into the room, Mister Doll begins to manipulate his clay doll into his image again. Iron Man uses his new transistorized ray gadget to mold the doll into the image of Mister Doll himself. The surprised Mister Doll immediately drops the doll, fearing that he might hurt himself. As the doll hits the floor, he collapses into unconsciousness. Iron Man then scoops him up and hands him over to the police.
Afterwards, Tony and Happy realize they've left Pepper in the locked room. She is NOT happy!


Appearing in "Thor the Mighty and the Stone Men from Saturn!"
Featured Characters:
Antagonists:
Other Characters:
Races and Species:
Locations:
Items:
Vehicles
Synopsis for "Thor the Mighty and the Stone Men from Saturn!"
Donald Blake, a doctor from the United States, is visiting Norway. At the same time, a ship from Saturn lands nearby as advance scouts for a planned invasion. A local fisherman spots them and alerts the villagers, but they dismiss him. Blake overhears and goes to look for himself. When he steps on a twig, the aliens notice him. He flees into the hills, where he loses his cane. He runs into a cave, but the other entrance is blocked by a giant boulder. A secret door opens, revealing a chamber where Blake finds a walking stick. He tries to move the boulder with the stick but is unable to get leverage. Frustrated, he hits the boulder with the stick, and, in a flash of light, the stick transforms into a hammer, transforming Blake into Thor, the mythical Norse God of Thunder.
Part 2: The Power of Thor!
Thor easily lifts the boulder and leaves the cave. He verifies that the hammer has all the powers of Mjolnir, Thor's legendary weapon. He discovers it gives him the power to create storms and that the hammer is indestructible and will come back to him if thrown. Meanwhile, the alien armada shows up on Earth's radar screens. When fighter jets scramble to meet them, they project an image of a huge dragon and frighten away the pilots. When the ground forces fire missiles, they explode harmlessly against the ships' force fields. Thor speeds to the defense of the Earth.
Part 3: Thor the Mighty Strikes Back!
When Thor attacks the aliens, they drop a cage over him, but he tears the bars open. They aim their disintegration beams at him, but his hammer smashes their guns. They unleash their Mechano-Monster, but he smashes it to bits. The aliens return to their ships and give up their invasion. Thor changes back to Dr. Blake, whom the soldiers ignore when they come to look for the invaders.

See Also
Footnotes
---
---
Community content is available under
CC-BY-SA
unless otherwise noted.