History
Dr. Max Borne, a TimeSpinner from the year 2211, is the Spider-Man of that year. His costume is different from the costume of the original Spider-Man, in that it has four extra mechanized arms, but it does follow the same color scheme of red and blue. He is part of an organization that tries to prevent disruptions in the time field.[2]
He later aided Spider-Man and Spider-Man 2099 in defeating the Hobgoblin of 2211, his main enemy. It was then discovered that the Hobgoblin was in fact Robin Borne, his daughter. After Robin attempted to bring chaos into the current reality by introducing another Uncle Ben into it, she was unwittingly erased by Spider-Man with one of her own retcon bombs. Spider-Man 2211 was subsequently shot and seemingly killed by the Chameleon, posing as Uncle Ben.[3]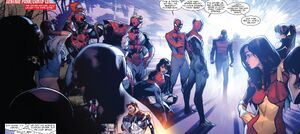 Later Max was recruited by Spider-UK to his Spider-Army.[4]
Attributes
Powers
Borne possesses superhuman strength (able to lift 25 tons optimally), agility, and endurance.
Paraphernalia
Equipment
His armor is bulletproof (except at point-blank range) and includes guided webbing, electro-webbing, supplied air, four mentally controlled cybernetic arms, visual sensors, rocket boots and a time-traveling engine. Borne's technology can view alternate timelines, perform mind-wipes, and use advanced stochastic modeling to forecast the most probable future events.
See Also
Links and References
References
Like this? Let us know!