Appearing in "Earth!"
Featured Characters:
Antagonists:
Other Characters:
Locations:
Vehicles:
Synopsis for "Earth!"
The HMS Endeavor, carrying the Microns, has fled the Microverse through the Spacewall. A Time Traveler appears, says that the new breach in the Spacewall is permanent, and warns them of a pursuing battleship. The Endeavor leaves the Fringes, enters normal space, and immediately crashes into a huge stand of vegetation. Rann notes that Marionette's "friend" (the Time Traveler) has vanished; Marionette disclaims any connection. Discussion naturally turns to the imminent arrival of the battleship. Biotron suspects that Karza is afraid of something Rann learned in his exploration of the Microverse, but whatever it is, it's locked in Rann's subconscious.
The crew exit the ship. Almost immediately they find a huge metal frame (recognizable to Earthlings as a swing set). A huge beast (puppy) comes crashing through the brush!
Meanwhile, back on Homeworld, the staff at the Body Banks prepare Prince Argon for an operation. Karza admits that Mari escaped but assumes the situation is only temporary. Back on Earth, Rann uses his glider pack to get Mari to safety, over her protests. Microtron trips the puppy, Biotron punches it, and Rann finally brings his blaster into play. The next menace appears, a huge growling machine (lawnmower) that rolls over Acroyear and Bug. Acroyear grabs its "fang" (blade), stops it, and topples the thing. The operator, surprised, falls as well. He is even more surprised to find six small aliens in his backyard.
Marionette quickly outlines their situation. The human, a boy named Steve Coffin, agrees to help them and identifies their location as Daytona Beach, Florida. At that moment, two battleships arrive, commanded by Shaitan. One separates and attacks. Steve swats the fighter pod into a tree, where it explodes. Acroyear launches a divot into a scout pod, knocks it into another pod, and both wreck. The other scout pod chases Rann and Marionette. Bug's rocket lance bumps it off course enough to hit a chain on the swing set, but Bug is caught in the resulting explosion.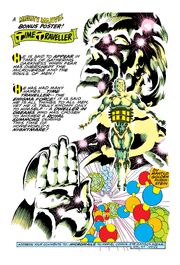 Shaitan brings his ship around to fire torpedoes on the Endeavor. It lifts off and warps away. Steve swings a rake and damages Shaitan's ship, which also warps away. Now alone in a yard full of flame and debris, Steve says, "Gee! What am I gonna tell Dad?!"
Notes
This issue includes a one-page poster of the Time Traveler.
On the cover, Steve has a manual push mower; in the story, it's motorized.
See Also
Links and References
Footnotes
Like this? Let us know!