Previous Issue
Next Issue
—
I don't want you with me! I don't need you! I don't need anybody! With my strength -- my power -- the world is mine!

--Hulk
Appearing in "The Hulk"
Featured Characters:
Supporting Characters:
Antagonists:
Other Characters:
Locations:
Items:
Vehicles:
Synopsis for "The Hulk"
Part 1: The Coming of the Hulk
At an Army base in the desert, Doctor Bruce Banner is readying the first test of his invention, the G-Bomb. General "Thunderbolt" Ross wants to know why Banner keeps delaying the test. His daughter Betty tries to calm him down, with little success. Banner tells Ross that the final countdown has begun. His assistant, Igor, demands that Banner share his work so that someone may check his calculations. "I don't make errors, Igor," says Bruce, and, when Igor threatens him, "You know how I detest men who think with their fists."
Banner takes a last look at the bomb with binoculars. He notices a teenage boy in a car, tells Igor to halt the countdown, and hurries after the boy in a jeep. Igor, who supposedly defected to the U.S. from the Soviet Union, is a spy and decides not to stop the countdown so that America will lose its greatest nuclear physicist. Banner gets the boy into a trench, but, before he can jump in himself, the G-Bomb explodes! Gamma rays saturate Banner's body.
Hours later, Banner regains his senses. The boy, Rick Jones, who drove onto the base on a dare, brought him back to base. Banner waits for some kind of symptoms to appear. When night falls, Jones turns on a "radio," actually a Geiger counter. Its clicking increases, and Banner changes into a huge grey figure. "Get out of my way, insect," says the figure, shoving Jones aside. He pushes through the wall, wrecks a jeep full of soldiers when it hits him, and wanders off to hide. Jones follows.
Part 2: The Hulk Strikes!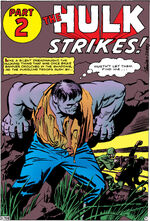 The thing that was once Banner, with Jones trailing him, sneaks past the soldiers trying to find him and finds Banner's cabin. Inside, Igor is trying to find Banner's notes. He shoots at the Hulk, without effect. The Hulk takes away his gun and crumples it with one hand. He picks up Igor and slams him down on a lab bench. Jones notices a folder taped to the bottom of a large beaker, labeled "Top Secret: Report on Gamma Ray Bomb," and takes it. The Hulk picks up a photo of Banner and says, "I—I know that face!! But it is weak—soft!! I hate it! Take it away!" Jones reminds him that he is Banner. The Hulk briefly remembers what happened, then says, "I don't need you! I don't need anybody! With my strength—my power—the world is mine! As for you—you are the only one who knows who I really am!" He advances on Jones. The sun comes up at that moment, and the Hulk changes back into Banner.
Part 3: The Search for the Hulk
The MPs storm in, arrest Igor, ask Banner about the Hulk, take the folder, and leave. Betty comes to apologize for her father's outburst and tells him he should get medical attention. Banner says he'll call her and shows her out. He tells Jones that he's afraid he will change again at sunset.
Part 4: Enter... the Gargoyle!
In his cell, Igor uses a transmitter overlaid on his thumbnail. The message finds its way to the Gargoyle, a deformed Soviet scientist and secret agent, who travels by submarine and short-range missile to the desert. Banner and Jones take a jeep out into the desert before night falls, in case he changes again. He does change, and the Hulk wrecks the jeep. He recognizes the area near Ross's house and decides to visit Betty. At the same time, Betty decides to take a walk. She encounters the Hulk and faints in his arms. The Gargoyle appears.
Part 5: The Hulk Triumphant!
The Gargoyle shoots the Hulk and Jones with drug-filled bullets, making them like robots. They follow him to a truck, whose driver also gets shot. Ross finds Betty, who was frightened by her encounter but says, "In spite of everything, there was something... something sad about him!! Almost as though he was seeking... help!" Ross says, "If it takes an eternity, I'll find that monster!"
The Gargoyle and his captives reach a sub on the coast and get into a jet. As they streak towards the USSR, the sun rises on the Hulk, who changes back into Banner. Upon landing, the Gargoyle is astounded to find a man instead of a monster. He begins to cry, because he wants to be normal too. Banner treats him with radiation, which makes him look normal but takes away his super intelligence. The man who was once the Gargoyle realizes how the state has used him, so he puts Banner and Jones on a jet for home and blows up his base along with himself.


Appearing in "The Fantastic Four"
Featured Characters:
Antagonists:
Other Characters:
Races and Species:
Locations:
Items:
Vehicles:
Marvel-1

(First appearance)

(Unnamed)

(Destroyed)

Fantastic Four's private jet


Synopsis for "The Fantastic Four"
Chapter 1
A shadowy figure fires a flare out of a window. The flare forms the words "The Fantastic Four!"[Continuity 1]
Susan Storm is having tea with a friend. When she sees the flare, she turns invisible, gets into a cab,[Continuity 2] and offers the surprised driver a banknote when she reaches her destination.
Ben Grimm is trying to find a coat that fits him. A clerk in the haberdashery sees the flare. Grimm bursts out of the too-small door, rips a manhole out of the street, follows the sewers, and bursts out when he thinks he has reached his destination. He is struck by a taxi which is wrecked.
Johnny Storm is working on his latest hot rod in a service station. The mechanic sees the flare, which turns into the number 4. Johnny bursts into flame and flies away, destroying his car. The authorities treat him as an enemy attack, so he reluctantly melts the jets that come after him. A nuclear heat-seeking missile locks onto him, and, just as Johnny's flame starts to fade, an impossibly long pair of arms grab the missile and throw it out to sea.
Johnny's savior is the same man who fired the flare. He greets Susan, Ben, and Johnny with the words, "There is a task that awaits us ... a fearful task!" But how did these four people become so fantastic?
To beat the Communists into space, scientist Reed Richards, sister and brother Sue and Johnny Storm, and pilot Ben Grimm sneak off into space in a rocket.[Continuity 3] In space, the four are bombarded by cosmic rays.[Continuity 4] The auto-pilot lands the ship back on Earth,[Continuity 5] where they find themselves physically transformed and possessing remarkable new abilities. Sue can turn invisible. Ben has transformed into an orange, muscular "thing" with super-strength.[Continuity 6] Reed's body became highly malleable, allowing him to stretch into any shape. Johnny's body bursts into flame, and he can fly. They decide to use their abilities to become the super-team known as the Fantastic Four. They give themselves the individual names Mr. Fantastic, Invisible Girl, Human Torch, and the Thing.[Continuity 7][Continuity 8]
(Chapter 2) The Fantastic Four Meet the Mole Man!
Atomic plants in the Soviet Union, Australia, and South America have been mysteriously attacked by cave-ins. Another attack occurs in Africa, where a huge monster burrows out of the ground but is recalled by a human figure. The Fantastic Four travel aboard their private jet to Monster Isle, which Reed has deduced is the same distance from each attack. There, they are attacked by a giant three-headed monster. Reed stops the monster, but a cave-in separates Reed and Johnny from Ben and Sue. Beneath the island Reed and Johnny land in the Valley of Diamonds, which temporarily blinds them. The Mole Man appears, revealing he is responsible for the attacks.
(Chapter 3) The Mole Man's Secret!

The Mole Man explains his origin. Having been ridiculed by humanity, he went off alone in search of the legendary land at the center of the earth. Eventually, he washed ashore on Monster Isle. Making his way through a cavern, he was caught in an avalanche and rendered almost blind.[Continuity 9] However, due to his other heightened senses taking over, he mastered the subterranean creatures[Continuity 10] and built himself an underground empire.
Meanwhile, on the surface, Ben wrestles a rock monster. Ben and Sue find their teammates listening to the Mole Man's plan to invade the surface world. He sends his monster army against the Fantastic Four. Whilst Johnny distracts the biggest one, the team flees through a tunnel, which Johnny seals shut behind them. After the Fantastic Four escape in their jet, Mole Man destroys the island so the surface world cannot trouble him again.[Continuity 11]


Appearing in "Spider-Man!"
Featured Characters:
Supporting Characters:
Antagonists:
Other Characters:
Races and Species:
Locations:
Items:
Synopsis for "Spider-Man!"
Part 1
A shy, unassuming high-school student, Peter Parker prefers the company of his teachers to that of his classmates, who call him "Midtown High's only professional wallflower." His only living relatives, Uncle Ben and Aunt May, think the world of
him.
One evening, while attending a demonstration of radioactivity at General Techtronics Laboratories East, Parker fails to notice a spider drop through a "radioactive ray" and receive a massive dose of radiation. It bites him and dies. Light-headed, Parker leaves the demonstration, only to be nearly run over by a car. He leaps to safety but is surprised to find he has jumped much further than intended—he lands on the side of a building and clings to the bricks by his fingertips. He quickly climbs to the roof and, once there, accidentally crumples a steel pipe in his hand. He believes that he has inherited the spider's speed, strength, and climbing ability. He begins to ponder the possibilities.
Shortly thereafter, Parker sees a wrestling ring and a sign: "$100 to the man who can stay in the ring three minutes with Crusher Hogan." He goes home, changes, puts on a hood, and returns to the ring. Hogan laughingly calls Parker the "Masked Marvel," but Parker lifts Hogan over his head and carries him up a post. Afterward, a man in the crowd introduces himself to Parker as a television producer, encourages him to go into show business, and gives him his card.
At home, Parker makes himself a spider-themed costume, a supply of sticky web fluid, and two jets for his wrists that can shoot the fluid. "Here comes the Spider-Man!" he says.
Part 2
The Spider-Man appears on television and becomes a celebrity. One evening, he goes backstage and finds a guard chasing a thief. Spider-Man lets the thief escape and, when the guard complains, tells him, "That's your job! I'm thru being pushed around ... by anyone!"
Some days later, Parker returns home and learns from a policeman that a burglar has killed his Uncle Ben. The police have cornered the man in the deserted Acme warehouse. Parker dons his costume and swings to the scene.
Once inside, he frightens the man by crawling down the wall toward him. Parker then covers his gun hand with web fluid and knocks him unconscious. When he sees the man's face, he recognizes the thief who got away at the studio. He wraps the burglar in webbing and leaves him for the police to find. Shocked, Peter realizes that, if he had caught the burglar, his Uncle Ben would still be alive. He eventually learns that with great power comes great responsibility.


Notes
This was the first title published by Marvel UK.
This issue is all reprint and includes stories featuring:
This issue contained a 'free gift' as an incentive to buy, an iron-on Hulk T-Shirt transfer.
See Also
Footnotes
---
---
Cite error: <ref> tags exist for a group named "Continuity", but no corresponding <references group="Continuity"/> tag was found.
Community content is available under
CC-BY-SA
unless otherwise noted.