History
Originate and commissioned by Mayor Sadie Sinclair, The San Francisco Museum of Mutant History was one of the world's only museums dedicated to mutant history, art, literature, and their struggles for acceptance.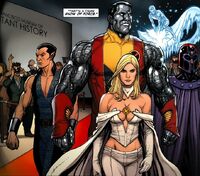 After Kid Omega's attack on the United Nations, anti-mutant sentiment began to rise and world leaders began reactivating Sentinels.[1] In hopes of extinguishing some of the anti-mutant sentiment, Mayor Sinclair expedite the grand opening of the Museum. In a show of force disguised as a peace delegation, Cyclops sent the X-Men Emma Frost, Magneto, Namor, Iceman, and Colossus to attend the grand opening.[2] Some of the younger X-Men also attended including Anole, Dust, Oya, Prodigy, Rockslide, Trance, Transonic, and Zero.[2][3]
Unfortunately, Kade Kilgore and his Hellfire Club used this opportunity to attack the X-Men. Despite Wolverine's objections, Cyclops ordered Idie to stop the Hellfire Club by killing them. After the crowds were cleared, the Hellfire Club blow up the museum[4][3] leading to a giant super-Sentinel nearly destroying Utopia, and Cyclops and Wolverine parting ways because of philosophical differences.[5][6]
It is unknown if there are plans to rebuild the museum.

Points of Interest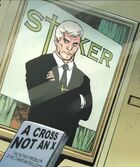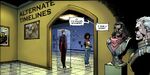 Exhibits included:
See Also
Links and References
Footnotes
Community content is available under
CC-BY-SA
unless otherwise noted.