Wiki Targeted (Entertainment)
Play Sound
History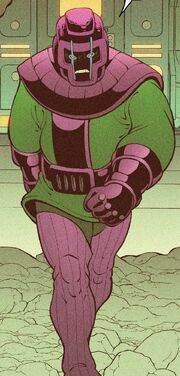 Kang of Earth-6309 was a member of the Kang Collective and along with fellow Kang of Earth-2752 attended the eighty-ninth gathering of the Kangs at the Transtemporal Hub-World. The Council of Kangs exiled Kangaroo the Conqueror for finding him an affront to all Kang kind and Kang-6309 decided to destroy his entire world as well. Upon his arrival on Larval Earth, he took away the colour and humour of half of its inhabitants, to see whether they could be used as slaves. Dissatisfied with the result, he was attacked by Sca-vengers, but managed to defeat all of them. As Kang prepared to destroy the Larval Earth, Kangaroo the Conqueror returned with the help of Spider-Ham and Earth-616 Spider-Man. They defeated Kang-6309 by using the tech of the Kang Collective, only for him to be revealed as Mojo's puppet. Unwilling to let the profitable Larval Earth be destroyed, Mojo corrupted Kang-6309 before shutting off his brain, killing him.[1]
See Also
Links and References
Footnotes
Like this? Let us know!