Cobra Kai Season 4 - The Loop
Play Sound
History
A seemingly empty region of the Darkforce Dimension,[1] the Null Space was associated with the Fraternity of Raptors. The Fraternity of Raptors, who were created to serve the Shi'ar, maintain their Tree of Shadows in Null Space. The tree was the way-point from which the Fraternity are connected to their Raptor Amulets and to each other. The Raptors reside in crystals upon the tree's branches, linked to their amulets in normal dimensional space. When the parasitic amulets attach to a host, the Raptor manifests in real space, while the host is sent into Null Space as a living battery. The Tree of Shadows and the hosts are guarded by demonic life forms loyal to "the source."[2]
Points of Interest
Residents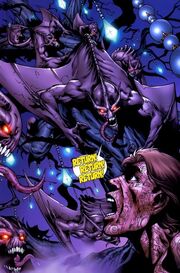 Notes
See Also
Links and References
Footnotes
Like this? Let us know!