Previous Issue
Next Issue
—
—
Appearing in "The Fantastic Four"
Featured Characters:
Antagonists:
Other Characters:
Races and Species:
Locations:
Items:
Vehicles:
Marvel-1

(First appearance)

(Unnamed)

(Destroyed)

Fantastic Four's private jet


Synopsis for "The Fantastic Four"
Chapter 1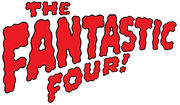 A shadowy figure fires a flare out of a window. The flare forms the words "The Fantastic Four!"[Continuity 1]
Susan Storm is having tea with a friend. When she sees the flare, she turns invisible, gets into a cab,[Continuity 2] and offers the surprised driver a banknote when she reaches her destination.
Ben Grimm is trying to find a coat that fits him. A clerk in the haberdashery sees the flare. Grimm bursts out of the too-small door, rips a manhole out of the street, follows the sewers, and bursts out when he thinks he has reached his destination. He is struck by a taxi which is wrecked.
Johnny Storm is working on his latest hot rod in a service station. The mechanic sees the flare, which turns into the number 4. Johnny bursts into flame and flies away, destroying his car. The authorities treat him as an enemy attack, so he reluctantly melts the jets that come after him. A nuclear heat-seeking missile locks onto him, and, just as Johnny's flame starts to fade, an impossibly long pair of arms grab the missile and throw it out to sea.
Johnny's savior is the same man who fired the flare. He greets Susan, Ben, and Johnny with the words, "There is a task that awaits us ... a fearful task!" But how did these four people become so fantastic?
To beat the Communists into space, scientist Reed Richards, sister and brother Sue and Johnny Storm, and pilot Ben Grimm sneak off into space in a rocket.[Continuity 3] In space, the four are bombarded by cosmic rays.[Continuity 4] The auto-pilot lands the ship back on Earth,[Continuity 5] where they find themselves physically transformed and possessing remarkable new abilities. Sue can turn invisible. Ben has transformed into an orange, muscular "thing" with super-strength.[Continuity 6] Reed's body became highly malleable, allowing him to stretch into any shape. Johnny's body bursts into flame, and he can fly. They decide to use their abilities to become the super-team known as the Fantastic Four. They give themselves the individual names Mr. Fantastic, Invisible Girl, Human Torch, and the Thing.[Continuity 7][Continuity 8]
(Chapter 2) The Fantastic Four Meet the Mole Man!
Atomic plants in the Soviet Union, Australia, and South America have been mysteriously attacked by cave-ins. Another attack occurs in Africa, where a huge monster burrows out of the ground but is recalled by a human figure. The Fantastic Four travel aboard their private jet to Monster Isle, which Reed has deduced is the same distance from each attack. There, they are attacked by a giant three-headed monster. Reed stops the monster, but a cave-in separates Reed and Johnny from Ben and Sue. Beneath the island Reed and Johnny land in the Valley of Diamonds, which temporarily blinds them. The Mole Man appears, revealing he is responsible for the attacks.
(Chapter 3) The Mole Man's Secret!
The Mole Man explains his origin. Having been ridiculed by humanity, he went off alone in search of the legendary land at the center of the earth. Eventually, he washed ashore on Monster Isle. Making his way through a cavern, he was caught in an avalanche and rendered almost blind.[Continuity 9] However, due to his other heightened senses taking over, he mastered the subterranean creatures[Continuity 10] and built himself an underground empire.
Meanwhile, on the surface, Ben wrestles a rock monster. Ben and Sue find their teammates listening to the Mole Man's plan to invade the surface world. He sends his monster army against the Fantastic Four. Whilst Johnny distracts the biggest one, the team flees through a tunnel, which Johnny seals shut behind them. After the Fantastic Four escape in their jet, Mole Man destroys the island so the surface world cannot trouble him again.[Continuity 11]


Appearing in "Spider-Man!"
Featured Characters:
Supporting Characters:
Antagonists:
Other Characters:
Races and Species:
Locations:
Items:
Synopsis for "Spider-Man!"
Part 1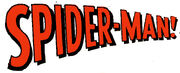 A shy, unassuming high-school student, Peter Parker prefers the company of his teachers to that of his classmates, who call him "Midtown High's only professional wallflower." His only living relatives, Uncle Ben and Aunt May, think the world of
him.
One evening, while attending a demonstration of radioactivity at General Techtronics Laboratories East, Parker fails to notice a spider drop through a "radioactive ray" and receive a massive dose of radiation. It bites him and dies. Light-headed, Parker leaves the demonstration, only to be nearly run over by a car. He leaps to safety but is surprised to find he has jumped much further than intended-he lands on the side of a building and clings to the bricks by his fingertips. He quickly climbs to the roof and, once there, accidentally crumples a steel pipe in his hand. He believes that he has inherited the spider's speed, strength, and climbing ability. He begins to ponder the possibilities.
Shortly thereafter, Parker sees a wrestling ring and a sign: "$100 to the man who can stay in the ring three minutes with Crusher Hogan." He goes home, changes, puts on a hood, and returns to the ring. Hogan laughingly calls Parker the "Masked Marvel," but Parker lifts Hogan over his head and carries him up a post. Afterward, a man in the crowd introduces himself to Parker as a television producer, encourages him to go into show business, and gives him his card.
At home, Parker makes himself a spider-themed costume, a supply of sticky web fluid, and two jets for his wrists that can shoot the fluid. "Here comes the Spider-Man!" he says.
Part 2
The Spider-Man appears on television and becomes a celebrity. One evening, he goes backstage and finds a guard chasing a thief. Spider-Man lets the thief escape and, when the guard complains, tells him, "That's your job! I'm thru being pushed around ... by anyone!"
Some days later, Parker returns home and learns from a policeman that a burglar has killed his Uncle Ben. The police have cornered the man in the deserted Acme warehouse. Parker dons his costume and swings to the scene.
Once inside, he frightens the man by crawling down the wall toward him. Parker then covers his gun hand with web fluid and knocks him unconscious. When he sees the man's face, he recognizes the thief who got away at the studio. He wraps the burglar in webbing and leaves him for the police to find. Shocked, Peter realizes that, if he had caught the burglar, his Uncle Ben would still be alive. He eventually learns that with great power comes great responsibility.


Appearing in "The Hulk"
Featured Characters:
Supporting Characters:
Antagonists:
Other Characters:
Races and Species:
Locations:
Items:
Vehicles:
Synopsis for "The Hulk"
Part 1: The Coming of the Hulk
At an Army base in the desert, Dr. Bruce Banner is readying the first test of his invention, the G-Bomb. General "Thunderbolt" Ross wants to know why Banner keeps delaying the test. His daughter Betty tries to calm him down, with little success. Banner tells Ross that the final countdown has begun. His assistant, Igor, demands that Banner share his work so that someone may check his calculations. "I don't make errors, Igor," says Bruce, and, when Igor threatens him, "You know how I detest men who think with their fists."
Banner takes a last look at the bomb with binoculars. He notices a teenage boy in a car, tells Igor to halt the countdown, and hurries after the boy in a jeep. Igor, who supposedly defected to the U.S. from the Soviet Union, is a spy and decides not to stop the countdown so that America will lose its greatest nuclear physicist. Banner gets the boy into a trench, but, before he can jump in himself, the G-Bomb explodes! Gamma rays saturate Banner's body.
Hours later, Banner regains his senses. The boy, Rick Jones, who drove onto the base on a dare, brought him back to base. Banner waits for some kind of symptoms to appear. When night falls, Jones turns on a "radio," actually a Geiger counter. Its clicking increases, and Banner changes into a huge grey figure. "Get out of my way, insect," says the figure, shoving Jones aside. He pushes through the wall, wrecks a jeep full of soldiers when it hits him, and wanders off to hide. Jones follows.
Part 2: The Hulk Strikes!
The thing that was once Banner, with Jones trailing him, sneaks past the soldiers trying to find him and finds Banner's cabin. Inside, Igor is trying to find Banner's notes. He shoots at the Hulk, without effect. The Hulk takes away his gun and crumples it with one hand. He picks up Igor and slams him down on a lab bench. Jones notices a folder taped to the bottom of a large beaker, labeled "Top Secret: Report on Gamma Ray Bomb," and takes it. The Hulk picks up a photo of Banner and says, "I—I know that face!! But it is weak—soft!! I hate it! Take it away!" Jones reminds him that he is Banner. The Hulk briefly remembers what happened, then says, "I don't need you! I don't need anybody! With my strength—my power—the world is mine! As for you—you are the only one who knows who I really am!" He advances on Jones. The sun comes up at that moment, and the Hulk changes back into Banner.
Part 3: The Search for the Hulk
The MPs storm in, arrest Igor, ask Banner about the Hulk, take the folder, and leave. Betty comes to apologize for her father's outburst and tells him he should get medical attention. Banner says he'll call her and shows her out. He tells Jones that he's afraid he will change again at sunset.
Part 4: Enter... the Gargoyle!
In his cell, Igor uses a transmitter overlaid on his thumbnail. The message finds its way to the Gargoyle, a deformed Soviet scientist and secret agent, who travels by submarine and short-range missile to the desert. Banner and Jones take a jeep out into the desert before night falls, in case he changes again. He does change, and the Hulk wrecks the jeep. He recognizes the area near Ross's house and decides to visit Betty. At the same time, Betty decides to take a walk. She encounters the Hulk and faints in his arms. The Gargoyle appears.
Part 5: The Hulk Triumphant!
The Gargoyle shoots the Hulk and Jones with drug-filled bullets, making them like robots. They follow him to a truck, whose driver also gets shot. Ross finds Betty, who was frightened by her encounter but says, "In spite of everything, there was something... something sad about him!! Almost as though he was seeking... help!" Ross says, "If it takes an eternity, I'll find that monster!"
The Gargoyle and his captives reach a sub on the coast and get into a jet. As they streak towards the USSR, the sun rises on the Hulk, who changes back into Banner. Upon landing, the Gargoyle is astounded to find a man instead of a monster. He begins to cry, because he wants to be normal too. Banner treats him with radiation, which makes him look normal but takes away his super intelligence. The man who was once the Gargoyle realizes how the state has used him, so he puts Banner and Jones on a jet for home and blows up his base along with himself.


Appearing in "The Origin of Daredevil"
Featured Characters:
Supporting Characters:
Antagonists:
Porky

(Main story and flashback)

Sam

(Main story and flashback)

Slade

(Main story and flashback)
Other Characters:
Races and Species:
Humans

(Main story and flashback)
Locations:
Earth

(Main story and flashback)
Items:
Synopsis for "The Origin of Daredevil"
One night at Fogwell's gym, a number of the bruisers that work there are enjoying a game of cards, when they're interrupted by the arrival of Daredevil, who has come looking for their boss, the Fixer. Fighting them, Daredevil reflects back to his past, and the events that led to his becoming this new costumed hero:
Daredevil is Matthew Murdock, son of "Battling" Jack Murdock, a prize fighter past his prime, who wants his son to get a real education instead of fighting. While his father tries to find honest work, his son is taunted by his peers and so begins training in secret.
One day, while Jack has no choice but to sign up with the Fixer, a shady fight organizer, Matt saves a blind old man from being run over in the street, but gets run over himself. The chemical truck spills its radioactive waste on Matt, blinding him. Matt soon realizes that all of his other senses have been heightened from this accident and continues his training.
Meanwhile, "Battling" Jack is experiencing a comeback that restores his self-esteem. Matt goes to law school and befriends Foggy Nelson. One night, the Fixer orders Jack to throw a fight, but when he refuses and instead wins the match, the Fixer has Jack killed.
After his father's funeral, Matt graduates from law school and opens his own law firm with Foggy, and they hire a secretary named Karen Page. Meanwhile, Matt decides to avenge his father by taking up the identity of Daredevil, creating a costume and converting his walking stick into a billy club weapon to fight crime.
Returning to the present, Daredevil continues to fight the Fixer's men, while across the city, Foggy goes to find Matt to help him to work, but he doesn't find him either at home or at the office. When he asks Karen, she shows tender sympathy for Matt's condition.
Back where the action is, Daredevil finds the Fixer and tracks him down to the subway with his keen senses. Switching back to his Daredevil guise, he chases the Fixer down the subway terminal until the Fixer suffers a severe heart attack. After the police round up the rest of his crew, Daredevil returns to his civilian guise and shows up for work, his co-workers worried about his well-being.


Appearing in "Iron Man Is Born!"
Featured Characters:
Supporting Characters:
Antagonists:
Wong-Chu

(First appearance)

(Apparent death)

Wong-Chu's Red Guerillas

(First appearance)
Other Characters:
Races and Species:
Locations:
Items:
Events:
Synopsis for "Iron Man Is Born!"
In a closely guarded lab, Anthony "Tony" Stark shows off a new invention to US military defense officials. He has developed micro-transistors capable of powering up things such as magnets; turning them into powerful weapons strong enough to pull open a thick metal door from a distance. They increase magnetic force a thousandfold! Stark impresses the military brass with his new inventions, while at the same time impressing the ladies of the international jet set with his dashing good looks and incredible personal wealth.
Across the globe, the evil Red tyrant Wong-Chu takes over another small village in Vietnam, defeating its strongest men in contests of judo. Meanwhile, Tony Stark has arrived in Vietnam to observe the testing micro-transistor-powered weaponry, which allow heavy items like mortars to be reduced in size no larger or heavier than a flashlight. Accompanying a squad of soldiers equipped with his weaponry on a patrol through the jungle, he accidentally triggers a tripwire that detonates a landmine. The wounded Stark is captured by Wong-Chu's forces and taken to their nearby headquarters. Wong-Chu realizes his prisoner is a "famous Yankee inventor" and decides that he will put him to work in service of the Communist insurgency even though doctors determine the young inventor only has days to live before "shrapnel reaches his heart."
Wong-Chu falsely promises that he will have a surgeon save Stark's life if he will agree to develop new high-tech weapons for him. Even though he saw through Wong-Chu's words to his true intentions, to make him work until his death, Stark agrees, in order to try and save his own life with his technical abilities and Wong-Chu's resources. Given access to scrap metal and tools, Stark promises he will deliver a "fantastic weapon," but sets out in building a mechanism that will help stop the shrapnel from penetrating his heart. He is given an assistant named Professor Yinsen, a famous physicist whom Stark had read about while in college. Working together, the two finalize work on Stark's project: an iron body suit with a chest plate that will keep the shrapnel at bay through use of transistor-powered magnets.
Just as Stark has donned the life-saving suit and begun to power it with electrical current from a generator, Wong-Chu attempts to come check on his prisoners. Professor Yinsen rushes out into the hallway shouting at Wong-Chu and is shot dead by armed guards, buying the precious seconds Stark needed to fully charge the armor. Tony Stark, as Iron Man, hears the murder of his friend and swears he will avenge his death. He tries to rise and steady himself in the Iron Man armor, but discovers it is like learning to walk again. He quickly gets the hang of operating the armor and evades detection from Wong-Chu by leaping to the ceiling and holding himself there using suction cups. After Wong-Chu leaves the room, the tyrant heads outside to "amuse himself" with his favorite sport, challenging the villagers to a duel of judo.
Iron Man descends from the ceiling and finds a coat and hat, with which to cover his armor, and wanders outside to find Wong-Chu tossing people around in the judo arena. Iron Man challenges Wong-Chu, then takes off his coat and hat to reveal the shocking visage of Iron Man! The metal monster walks up to Wong-Chu, picks him up, and twirls him around before tossing him into the brush. Wong-Chu demands that his guards open fire on Iron Man, but the bullets just bounce off the armored figure's metal chest plate. Iron Man then uses "reverse magnetism" to repel the enemy weapons. Wong-Chu tries to get to the speakers of the nearest building, in order to put a bounty on Iron Man, but Stark manages to create electrical interference and switch the radio's channel, telling Wong-Chu's troops through the speaker to flee their leader before the Iron Man "slays [them] all." Iron Man cuts down the building's door using a transistor-powered buzz-saw, but as soon as he enters the Communist menace fells him with a file cabinet loaded with rocks.
Wong-Chu escapes to order the execution of all his prisoners, but Iron Man, low on energy and too weak to continue pursuit, uses his armor's lubrication system to launch a stream of oil towards an ammunition depot near the fleeing Wong-Chu. He then sets fire to the oil stream using a miniature torch in one of the armor's gauntlets, causing the ammo dump to explode, and seemingly killing Wong-Chu. His batteries now recharged, Iron Man dons his coat and hat and walks away into the jungle.


Appearing in "X-Men"
Featured Characters:
Antagonists:
Other Characters:
Races and Species:
Locations:
Earth
Magneto's secret laboratory.
Items:
Vehicles:
Synopsis for "X-Men"
Brief Summary
At Xavier's School for Gifted Youngsters in Westchester County, New York, Professor Charles Xavier summons his students telepathically. When the Beast, Angel, Iceman, and Cyclops arrive, he puts them through a series of exercises to hone their mutant talents. Xavier then introduces them to a new student, Marvel Girl, to whom he explains the purpose of his school: his students do receive an education, but they are also the first line of defense against evil mutants.
Meanwhile, at Cape Citadel, Magneto causes a rocket to crash. The next day he takes over the whole base and claims it in the name of Homo superior (i.e. mutants). When Xavier hears about the incident, he sends his X-Men on their first mission. Cyclops uses his eye beams to make a hole in Magneto's force field, thus alerting him to their presence. Magneto launches a volley of heat-seeking missiles, which lock on to Angel; Iceman knocks most of them out, and the Beast catches the last one.
Magneto then sends metal debris at Angel; Cyclops destroys it. Magneto flings a burning tanker truck at the team; Iceman covers them with an ice shield, and Cyclops blasts a tunnel under the flames so that they come up near Magneto. Unprepared for such power and resourcefulness, Magneto sets up another force field and levitates himself to safety.
Detailed Summary
A man is seen waiting inside his large exclusive private school. Suddenly, he "calls out" mentally to his students stating that he is Professor X and he is ordering them to appear in class at once. Then four costume-clad people appear and report for their lessons: Cyclops, the Angel, Iceman and the Beast. Angel and Cyclops help the professor get comfortable in his chair. Iceman plays a prank on Beast and freezes his arm. Angel has to pull the two off each other and Professor X begins their training lessons using his "training machine".
The Beast is first and is given timed lessons to help him with his agility skills. He first grabs a taut wire with his toes in a second and a half. He then spins wildly on the wire and jumps through the room in exactly three seconds. Then he practices his balancing skills while Cyclops slackens the wire tension causing him to jump off and land on his feet. The Angel takes his turn and tests out his wing reflexes. He flies around jet flames, through a giant closing clamp and then skips through a bladed spinner without a slip. He becomes overconfident and when a sound concussion blasts around him, he loses his edge and begins to fall but then recovers. Iceman asks the professor to allow him to take more risks even though he is the youngest student. The professor tells him not to rush things. Iceman then feels that if he is going to be treated like a kid, then he will start acting like one. He finds "snowman items" and puts them on to joke around. Beast throws a ball at him since he is off-guard and Iceman reacts quickly creating an ice "boomerang-sled" sending the ball right back at Beast. Cyclops shows off his leadership skills and uses his beams to stop the group from goofing off. Professor X stops the team and readies them for the new student who has just arrived by taxi.
A redheaded woman steps from the cab and the group begins bantering with each other about the fact that a girl is joining the school. The team goes and changes while the woman enters and is greeted by Professor X who apparently sent her [Jean Grey] a letter to be enrolled as a student of his school. She questions the type of school that she sees and Professor X states that it is a school for the "specially gifted", mutants, like herself and the others. The professor introduces the rest of the team, using their real names and codenames, to Jean Grey, whom he says is now known as Marvel Girl. She shows off her powers of telekinesis to the rest of the team by moving chairs and books. The Beast, tries to give her a kiss and she turns him upside-down and spins him wildly in the air then throws him onto the couch. Professor X then tells the group their mission is to protect the world from mutants who would harm humans or other mutants.
Meanwhile, just such a mutant named Magneto, is hiding near Cape Citadel watching a missile launch. He uses his powers of magnetism to control the missile and send it crashing off-course into the nearby waters. The Army and NASA standby and are astounded that the missile was destroyed. They conclude that someone tampered with the missile prior to launch. The next day, the Daily Globe newspaper states that this was the sixth missile to be destroyed and a "phantom saboteur" has struck again. Then the soldiers begin seeing weapons firing randomly and tanks being controlled remotely. A message suddenly is written out in metallic dust in the sky and reads, "Surrender the base or I'll take it by force. - Magneto." While the message is being read by the soldiers, Magneto launches a missile from a silo near the base. He causes it to fall into the sea near an unmanned target ship. Magneto then walks into the base and takes control of it. He uses his powers to entrap the soldiers in a "magnetic-fence" from which they cannot escape.
The X-Men are alerted to the crisis at the Cape. They each get ready into their uniforms and ready to go. They are driven to the airport in Professor X's Rolls Royce and take his private jet to the Cape. The X-Men arrive and request the army hold off firing on the base for fifteen minutes. Cyclops uses his power to make a hole in Magneto's magnetic force field and this alerts Magneto of their presence on the base. Magneto fires heat-seeking hunter missiles at the team. Angel causes the missiles to lock onto him and follow him around in the air, while Iceman freezes them with snowballs. One missile gets through and Beast catches it with his feet. Marvel Girl then telekinetically sends it off into the sea. Magneto is amazed at the team's abilities and sends a pile of metal hurtling at Angel. The team stops to help him, while Magneto rolls a flaming barrel of rocket fuel at them. Iceman quickly encases the team in an ice cocoon when suddenly the tank blows up.
Magneto thinks he has won and starts to walk off when suddenly Cyclops' beam shoots out from the ground. The team emerges and begins to strike at Magneto full force. Magneto takes flight via magnetic repulsion and blocks the team from following him with a magnetic force field. They eventually breach it and Magneto has already disappeared. The army is gracious that the base is safe once again and thanks the X-Men for their help. The team then flies back home in the jet, while Professor X telepathically congratulates the team for a job well done.


Appearing in "The Coming of the Avengers!"
Featured Characters:
Avengers

(First appearance)

(Origin revealed)
Supporting Characters:
Antagonists:
Other Characters:
Odin

(Mentioned)

Charlie

(First appearance)

U.S. Army

(Mentioned)

Numerous unnamed circus-goers
Unnamed Asgardian guard
Jetliner crew
NYPD

(Mentioned)
Races and Species:
Locations:
Items:
Synopsis for "The Coming of the Avengers!"
Loki, having been previously captured by Thor, is being held prisoner at the Isle of Silence in Asgard. His physical form may be confined there, but by means of thought projection his disembodied self travels to Earth in search of revenge. He spots Thor in his human identity of Dr. Don Blake, but resists defeating him as it would be a hollow victory compared to defeating him as Thor.
After hours of searching, Loki happens across the Hulk and devises a wicked plan to entice Blake to transform into Thor. He projects a mental image of dynamite on the tracks of a nearby railway bridge. The Hulk spots the dynamite and attempts to snuff it out, accidentally destroying the bridge. Suddenly, a train appears on the tracks traveling towards the wreckage. Valiantly, the Hulk manages to hold the tracks up long enough for the train to pass safely before allowing it to collapse. Unfortunately, the damage has already been done and Loki's plan was successful.
Hours later, newspapers print articles about the Hulk being on the rampage again and a manhunt begins. The Hulk's friend, Rick Jones, reads the article with disbelief and meets with members of the Teen Brigade in order to find help to track Hulk down to find the truth. They attempt to contact the Fantastic Four but Loki interferes with the radio signal, diverting it to Don Blake. He decides to transform into Thor to help the Teen Brigade. Unknown to Loki, the radio signal is also picked up by Ant-Man, the Wasp, and Iron Man, who also travel to assist.
Later, the Teen Brigade are disappointed that the Fantastic Four hadn't responded to their message when they finally get a reply. They inform the Teen Brigade that they are too busy with another case but they have a hunch that other heroes may have received their distress call. Suddenly Thor, Iron Man, Ant-Man, and the Wasp arrive. Loki realizes that the other heroes will only interfere with his plans and lures Thor away by creating a mental image of the Hulk. Upon catching up with this fake "Hulk", Thor attacks and realizes it isn't real, and immediately suspects Loki. He then returns to Asgard to face his brother.
Meanwhile, Iron Man, Ant-Man and the Wasp track down the Hulk with the help of Ant-Man's ants. He is working at a circus pretending to be a robot called Mechano. They attempt to capture him by causing the ground below him to cave in, by dropping a steel cylinder onto him, and trying to catch him in a net. Hulk manages to escape the circus. Iron Man gives chase but the Hulk cripples his battery, and escapes while Iron Man repairs it.
Back in Asgard, Thor asks permission from Odin to meet Loki on the Isle of Silence to question him. Odin accepts but warns that he cannot interfere between the two brothers' quarrel. As Thor sets out across the Sea of Mist he is attacked by Loki's traps. First, he narrowly escapes tangle roots that threaten to drag him down into the depths. Next, a volcano erupts releasing volcanic gas globules capable of sapping the strength of any god. Thor manages to evade these by diving into the sea. On the island, Loki spots Thor's empty boat and wonders with disbelief if Thor has already been defeated. Suddenly, a giant water spout appears in front of him as Thor emerges from the sea to face him. He throws his hammer at Loki, only to have it deflected by a hastily-made ice shield.
Loki calls upon a Rock Troll, which begins to drag Thor beneath the ground. At the last moment, Thor uses his hammer to summon lightning which dazzles the troll, causing it to relinquish his hold. Thor angrily swings his hammer at Loki, who has created multiple mental images of himself to confuse him. Thor counters this by spinning his hammer fast enough to blow all the figures away, revealing the true Loki. Soaking up the magnetic flow from the earth with his hammer, he captures Loki via magnetic attraction and takes him back to Earth to clear the Hulk's name.
On Earth, Iron Man, Ant-Man and the Wasp continue to pursue the Hulk to an auto factory in Detroit. Thor appears with Loki to clear Hulk's name. Suddenly Loki makes himself radioactive forcing the heroes to retreat. Luckily, Loki stands over a trapdoor and Ant-Man's ants trigger a switch, dropping him into a lead-lined tank. Upon celebrating their victory, Ant-Man and the Wasp point out how well they could work as a team, and that they should work together in the future. The Wasp suggests they should call themselves the Avengers, and everybody agrees.
And there came a day, a day unlike any other, when Earth's mightiest heroes found themselves united against a common threat! On that day, the Avengers were born, to fight the foes no single super hero could withstand!


Appearing in "Captain America Joins... The Avengers!"
Featured Characters:
Supporting Characters:
Antagonists:
Baron Zemo (Heinrich Zemo)

(First appearance)

(Unnamed)

(Only in flashback)

Unnamed mobsters
Vuk

(First appearance)

(Unnamed)

(Main story and flashback)
Other Characters:
Races and Species:
Locations:
Items:
Vehicles:
Avengers' submarine
Vuk's Spaceship
Events:
Synopsis for "Captain America Joins... The Avengers!"
After escaping his battle with the Avengers, Namor angrily continues his search for his missing people. He eventually finds his way to the North Sea, where he discovers a tribe of Inuit people worshiping a dead man frozen in a block of ice. Still angry at humanity Namor approaches the Inuit, causing them to flee as he throws the ice block into the water. It drifts away, slowly beginning to thaw.
By chance, the Avengers are in the area in their undersea craft. They spot the figure in the water and Giant-Man pulls him onboard. Upon inspection they notice that he wears the clothing of long-lost World War II hero Captain America. Suddenly, he awakens and, in a fit of panic and confusion, charges at the Avengers before realizing his surroundings and calming down. Iron Man asks the mystery man who he is and the Avengers are skeptical when he tells them he is indeed Captain America. After a brief demonstration of his ability they quickly change their minds.
Captain America explains his last memories: He speeds towards an experimental plane on a motorcycle with his sidekick Bucky. Unknown to the duo, the plane had been sabotaged by Nazi agent Baron Zemo. Bucky manages to get on board while Captain America slips and falls from the plane. The last thing he remembers is the plane exploding with Bucky on it as he falls through the sky into the frozen waters off Newfoundland.
Back in the present day, the Avengers have docked in New York City and are greeted by a crowd of journalists looking for interviews about the battle with Sub-Mariner and the Hulk. Suddenly, a camera flashes and turns the team into stone. The journalists think it is a publicity stunt and leave. Aboard the sea craft Captain America awakens and exits onto the dock. He also spots the statues but dismisses them as statues made to honor the heroes. Cap finds the modern world very unusual and alien but finds his way to a hotel.
Later, Cap is awoken by a vision of Bucky, but it is revealed to be Rick Jones. He has been following Cap's trail across town, looking for clues to the Avengers' whereabouts. They team up to solve the mystery and examine photos taken at the dock. Cap discovers one of the photographers carrying what looks more like a weapon than a camera, and Rick sends his Teen Brigade to search around the city to find the mystery man. Eventually Captain America finds the man in question and approaches him. His gang overhears his entrance and a fight breaks out. Cap easily defeats them despite being heavily outnumbered, and exposes the leader as an alien. The alien, a member of the race called the D'bari, explains that his spaceship crashed into the ocean and the Sub-Mariner promised to help him return to his planet if he turned the Avengers to stone. Captain America offers to help the D'bari if they reverse the stone effect on the Avengers and he complies, freeing the Avengers once again.
In his castle, the Sub-Mariner angrily observes the scene and plans another tactic to defeat the Avengers. As if by luck, a troop of his Atlantean Elite Guard pass nearby and Namor rallies them to his side.
Back on land, the D'bari leads the Avengers to the area where his ship is stuck on the seabed below. After Giant-Man and Iron Man attach a camera to the ship's hull, Thor manipulates his hammer, causing a torrent of magnetic waves that wrench the ship free. The D'bari dives to make any necessary repairs to his ship. On the surface, Giant-Man and Captain America are suddenly attacked by Namor and his elite guard, sending them into the water. Namor duels with Iron Man, slowly gaining the upper hand. The Wasp flies in to distract Namor, giving Iron Man essential recovery time. Namor's elite guard plead for aid against the mighty Thor, who is making short work of them. Thor deflects the Atlanteans' weapons back at themselves, scattering the troops. Namor now battles one-on-one against Thor. Meanwhile, under the water, Giant-Man is ensnared by a massive net. However, he escapes by taking a shrinking capsule before he suffocates. He emerges near Iron Man, and they take care of the remaining Atlantean elite guard. Namor again attempts to take Thor's hammer from him, to no avail, and soon has to deal with Giant-Man and Iron Man as well. Captain America watches, trying to get a feel of what sort of team the Avengers are. The fight is brought to a standstill when some of the Atlanteans reveal a hostage - Rick Jones! With his uncanny reflexes, Cap leaps in and frees Rick and the fight begins anew. Suddenly an earthquake strikes the island and the Sub-Mariner leaves, believing the Avengers to be consumed by it. Little does he know, the tremors were actually caused by the launching of the D'bari spacecraft. The Avengers watch the D'bari leave and then officially offer Captain America a place on the team, which he readily accepts. Nearby, Rick looks out on the ocean deep in thought, torn between his loyalty to the Avengers, and to his old friend the Hulk.


Appearing in "The Man in the Ant Hill!"
Featured Characters:
Henry Pym

(First appearance)

(Origin revealed)
Other Characters:
Various scientists
Ants

(First appearance)
Races and Species:
Locations:
Items:
Synopsis for "The Man in the Ant Hill!"
Doctor Henry Pym declares success! He has successfully used his reducing serum to shrink a chair to doll size and used his enlarging serum to return it to normal size. Pym had been ridiculed months ago by his peers for his outlandish theories but has now perfected a pair of serums capable of changing the size of any object. Confident that his serums work, Pym tests them on himself.
Placing a few drops of reducing serum on his arm, Henry Pym quickly shrinks. Now ant-sized, he realizes that he left the enlarging serum on the window sill; it might as well be on the moon. He goes out into the yard. Ants sense his presence and move toward him. Pym, still not thinking clearly, runs into an ant hill. Fleeing blindly through the tunnels, he falls into a shaft and lands in a pool of honey. Hopelessly trapped, he spots an ant crawling towards him. To Pym's surprise, the ant pulls him free from the honey and lets him go unharmed. More ants appear. Pym notices a matchstick set in the ground and, hoping to create a diversion, throws a pebble at it. His aim is true, and the match lights.
Pym fashions a lasso and climbs up to a ledge. There, another ant grabs him in its mandibles. Pym uses judo to flip the ant over the ledge and scrambles upward. Once out of the ant hill, with the colony in hot pursuit, he sees the friendly ant who saved him earlier. He points upward to tell the ant where he needs to go. The ant climbs the wall with Pym aboard. He wades into the test tube with the serum and immediately returns to normal. Convinced that his invention is dangerous, he dumps his serums down the drain.


Appearing in "The Creature from Kosmos!"
Featured Characters:
Supporting Characters:
Antagonists:
Other Characters:
Races and Species:
Locations:
Items:
Synopsis for "The Creature from Kosmos!"
Returning from another mission, Ant-Man dwells on his loneliness and the loss of his late wife: Maria Pym. Flashing back to the past we learn that on their honeymoon, Henry and Maria Pym visited Maria's native Hungary, in spite of Henry's fears that her history as a political prisoner would make her a target. Shortly upon arrival in Hungary, Maria is captured by armed men and Henry is knocked out by the butt of one of their guns. Recovering at the American Embassy, Pym is informed that his wife has been murdered, as a lesson to those who wish to leave the Iron Curtain. Angered, Pym attempts to track down his wife's killers but only lands himself in jail. He is freed by Embassy officials and sent home. There, Pym uses his late wife's uncle's old saying "Go to the ants, thou sluggard!" as the inspiration for devising his size-changing formula and becoming Ant-Man.
His reflection over, Ant-Man realizes that he cannot continue his crusade against crime alone and needs a partner to aid him in his work. He begins working on a new set of abilities for his future partner utilizing wasp biology, but is interrupted by the arrival of Professor Vernon van Dyne and his young daughter, Janet.
Pym immediately realizes that Janet bears a striking resemblance to his late wife, Maria, but dismisses any attraction due to her age and apparent ditzy personality. Meanwhile, Janet also dismisses any attraction to him, due to the stereotype that scientists are boring individuals. Vernon asks Pym to look at his Gamma Ray Beam device which would allow him to make contact with another galaxy. While Pym finds it interesting, he explains to van Dyne that his area of expertise is in biology, not astronomy. Realizing Pym isn't interested in the project, van Dyne and his daughter leave.
Later that day, van Dyne attempts to use his Gamma ray beam and inadvertently transports a creature from the planet Kosmos. The creature states that it is an escaped criminal. It uses its powers to kill Dr. van Dyne and then flees. Janet stumbles upon her father's body. In a panic she calls Henry Pym, who dismisses her once again as a bored ditzy girl and hangs up, but later learns his error when he finds out the truth from his ants.
Donning his Ant-Man identity, he travels to the van Dyne house and finds that Professor van Dyne was killed by pure fear. He tells Janet to report her father's death to F.B.I. agent Lee Kearns, and tells her to go see Henry Pym right after. On his way back to his lab, Ant-Man learns from his ants that there were large traces of an alien form of formic acid, which frightens his ants.
Janet van Dyne arrives at Dr. Pym's lab, where Henry reveals to her his identity as Ant-Man and asks her to become his sidekick, the Wasp. Agreeing, Janet is implanted with wasp wings and antenna that she can use while shrunken down by Ant-Man's shrinking gas. As Ant-Man and Wasp, the duo arrive on scene where the creature from Kosmos is on a rampage. Before going into battle, Janet announces that she's in love with Hank, which he immediately dismisses, due to her age and his fear of a second tragedy in his love life. Even with the aid of the military, and Ant-Man's army of ants they are unable to stop the monster's rampage.
Realizing what he must do, Ant-Man and Wasp return to base where Ant-Man devises a compound to counteract formic acid. He then puts the compound into shotgun shells and, with the aid of his ants, succeeds in dispersing the creature by shooting it with a number of shells of the compound.
With the monster defeated, Ant-Man and Wasp return home, where Ant-Man calls F.B.I. agent Kearns to tell him that the menace has ended. When Kearns asks to be Ant-Man's partner, Ant-Man declines, telling the F.B.I. agent that he already has a partner. Janet thinks to herself that she'll certainly soon make him fall in love with her, and will stay with him so that he does.


Notes
Continuity Notes
See Also
Footnotes
---
---

Cite error: <ref> tags exist for a group named "Continuity", but no corresponding <references group="Continuity"/> tag was found, or a closing </ref> is missing
Community content is available under
CC-BY-SA
unless otherwise noted.