History
Origin
The Ogres of Asgard are presumed to be a non-native species, and possibly are Ogres of Otherworld (an humanoid species closely related to the Giants of Otherworld) that have emigrated from Otherworld to Asgard.[2]
Another species, the Hoar-Frost Ogres, are apparently from the Nine Realms, having crawled out of ice and rime.[3]
Encounters
...[3]
Thor, Iron Man and Steve Rogers encountered Ogres in Vanaheim after the siege of Asgard.[4]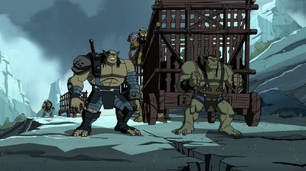 Avengers: Earth's Mightiest Heroes (Earth-8096)
On Earth-8096, when Baron Zemo used the Norn Stones, Hulk was transported to Vanaheim. Hulk, still in possession of the Bloodaxe, was attacked by a group of Ogres who had the Vanir imprisoned but the green monster took care of them with a powerful thunderclap.[5]
See Also
Links and References
Footnotes
Community content is available under
CC-BY-SA
unless otherwise noted.