Pheragots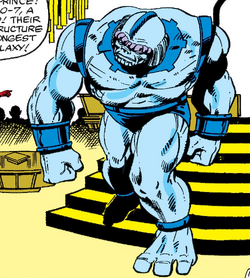 Physical Characteristics
Origin
Creators and Appearances
Powers and Abilities
Powers
Extraordinary superhuman strength and endurance[1]
Abilities
Extraordinary gentle, they tend to refuse fighting[1]
Average Strength Level
Weaknesses
When punched, they start crying.[1]
Habitat
Habitat
Cold and mountainous, with 71% covered by water (and 32% of the water is frozen)
Gravity
320% Earth standard
Atmosphere
73% nitrogen, 25% oxygen
Population
4.5 billion
Miscellaneous
Type of Government
Planet-wide democracy
Level of Technology
Interstellar starships with warp drive
Cultural Traits
Benevolence, meekness, sensitivity
Representatives
See also: List of Pheragots.
See Also
Links and References
Footnotes
Like this? Let us know!
Community content is available under
CC-BY-SA
unless otherwise noted.