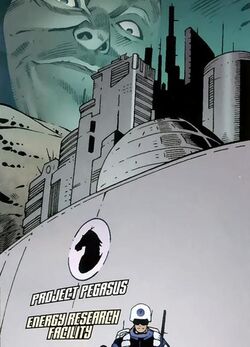 Aliases
Project Pegasus, Project: P.E.G.A.S.U.S.
Identity and Affiliations
Origin
Origin
Government-funded research facility
Creators and Appearances
History
Project Pegasus (Potential Energy Group/Alternate Sources/United States) is a scientific base. Project: Pegasus was originally intended to research alternative (and unusual) forms of energy, but has also been used as a prison for super-powered individuals. The facility is located in the Adirondack Mountains in New York.
Several heroes have served terms working security at the facility, including the Thing and Quasar. At one time it also served as a temporary home for the Squadron Supreme when they were exiled from their own universe.
Staff
Security
Notes
The facility is remembered best in comics for "The Project Pegasus Saga" printed in Marvel Two-in-One #53-#58 (later collected as a trade paperback of the same title with art by John Byrne and George Pérez). However, its recurring use as a prison for supervillains of the Marvel Universe has led to a number of comics stories in the following decades, significant among them an emergence of the Serpent Crown.
See Also
Links and References
Footnotes
Like this? Let us know!
Community content is available under
CC-BY-SA
unless otherwise noted.