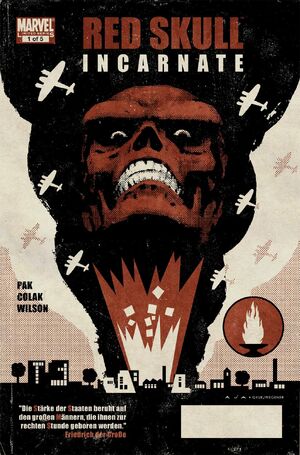 Textless
Solicit
Previous Issue
Next Issue
—
Appearing in 1st story
Featured Characters:
Supporting Characters:
Antagonists:
unnamed dogcatcher

(Only appearance)

[1]
unnamed director

(Only appearance)

[1]
Other Characters:
Races and Species:
Locations:
Synopsis for 1st story
Solicit Synopsis
Witness the chilling creation of Marvel's greatest monster, and liberty's greatest enemy. As Berlin descends into chaos and ruin, sinister forces are on the rise...and the men who will form the Nazi Party ascend to power. Against this tragic backdrop of history, a boy comes of age...Johann Schmidt. Orphan, thug, urchin – Johann has nothing...and how far he would go for power will change the world...Greg Pak, the writer of X-MEN: MAGNETO – TESTAMENT, and breakout Mirko Colak (SECRET WARRIORS) bring to life the twisted birth of the Red Skull.


Notes
Includes an Afterword by Greg Pak describing the research he did to prepare himself for the series.

Trivia
The quote on the front cover is by Frederick the Great and translates to "The strength of the states rests on the great men who are born to them at the right hour."
See Also
Footnotes
↑

First and only known appearance to date besides flashbacks
---
---
Reviews
I really loved Magneto: Testament and the amount of research Greg Pak did to prepare for it, and how much detail really came through because of that. When I heard he was doing a series about Red Skull...I was definitely intrigued. And, one issue in...I'm...cautiously optimistic.

This issue was...good. It was well-researched, and had real historical impact. But it felt like such a footnote in the life of the Red Skull. It felt like it could have been covered in a few pages. The entire worth of this book can be summed up in three sentences: Red Skull was an orphan who was abused by the orphanage director. He saw Hitler during the historic Beer Hall Putsch. He became a killer at a young age. That's it. It's nice to see Pak trying to make the Skull an almost sympathetic character. Not because he SHOULD be, but because the Skull was clearly not born evil. Evil is what he became over time, as he was warped by outside forces, which largely started here. But it would have been nice to see more of that. More of the corruption, the abuse, the darkness that eventually overcame him. As is...there's nothing special about this issue or this character. It's a shame. The artwork, like with Magneto: Testament is nice, but not great. It sets a tone and does it well, but isn't as captivating as one would hope.

All told...3 out of 5. It has potential galore, but it didn't really show it here.




GrnMarvl14 00:35, July 8, 2011 (UTC)
Weekly Video Review
This review is of Red Skull #1, and I gave it a 5/5.
Plot or ending details follow. Please skip this section if you do not want foreknowledge of this plot.

Spoilers in the video! Read the book before watching, you'll be glad you did. :)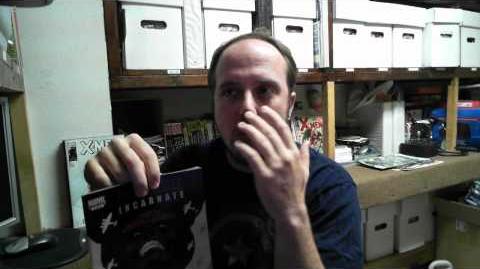 — Nathan (Peteparker) (Earth-1218) (talk • contribs • email) 06:12, July 7, 2011 (UTC)
Community content is available under
CC-BY-SA
unless otherwise noted.