A list of members of Roxxon Energy Corporation (Earth-616).
Members
Bob (Earth-616)
Dr. Bob was responsible for administering chemical treatment to control the Flag-Smasher[1].
Charlie (Roxxon) (Earth-616)
Charlie was a Northwest refinery worker who was rescued by Iron Man.[2]
Clarkson (Earth-616)
Vice-President Mr. Clarkson was murdered by Crossbones.[3]
Gail (Earth-616)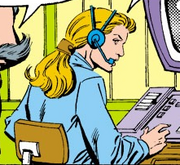 Gail was Carrington Pax's secretary.[4]
Juan (Roxxon) (Earth-616)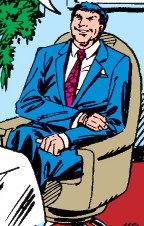 A Roxxon manager discusses with Jonas Hale if they takes advantage of Tony Stark's disability to bring a determined attack on Stark International.[5]
Kristy (Earth-616)
Mr. Clarkson's assistant, Kristy was murdered by Sin.[3]
Pearson (Earth-616)
Pearson was on the Roxxon Queen of Egypt super-tanker when it was boarded by Batroc and Mister Hyde.[6]
References