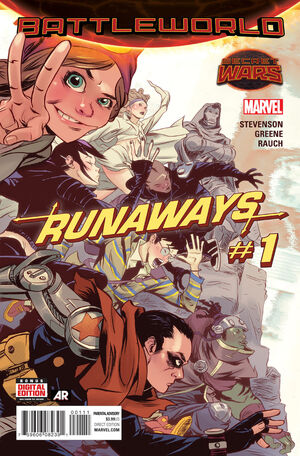 Textless
Noto Variant

Noto Variant Textless
Previous Issue
Next Issue
—
Appearing in "Doomed Youth: Part One"
Featured Characters:
Team Puce

(First appearance)

(Origin revealed)

(Unnamed)
Supporting Characters:
Antagonists:
Doom Elite

(First appearance)

(Main story and flashback)
Other Characters:
Races and Species:
Locations:
Items:
Vehicles:
Synopsis for "Doomed Youth: Part One"
When Jubilee defeated Sanna during a sparing match at the Victor von Doom Institute for Gifted Youths in Doomstadt, by cheating and using her powers while the teacher wasn't looking, it led to a confrontation between they two in the hallway after class.
As Frostbite grew more physical, Molly attempted to impress Megan and Delphyne, so that she could join their Night Witches gang, and lifted the entire row of nearby lockers to intervene. But a blast from Jubilee reflected off Frostbite's frozen forearm and struck Amadeus Cho, causing Skaar to jump to his defense, and smash the lockers Molly was holding.
The crash drew the attention of the hall monitor, Bucky, who sent them all to detention, including Ty, who wasn't even involved, but was in the wrong place at the wrong time. In detention the children pleaded with the Supervision Unit to let them out so that they could sign up for their final exam, but the Doombot had been ordered by Bucky to hold them until the end of the day.
Tandy teleported into the Corrections Room to urge Ty to formulate a plan to get them out, so that he could ensure she was on his team for finals, but before he could devise anything, Amadeus Cho used a remote control to override the Doombot, erasing it's programming and implementing his own, so that the robot believed it had let them out early for good behavior.
The nine then rushed to the Great Hall, where Bucky informed them that they were late and as such would all have to work together on the same team if they hoped to pass their final and avoid expulsion. Later Bucky informed God Emperor Doom of the their antics, and he ordered the defective Doombot destroyed, then the school's headmaster, Valeria, told him that she didn't think they should be allowed to pass their final exam.


Solicit Synopsis
• The best and brightest teens from all corners of Battleworld are chosen to attend a prestigious school on the planet's capital!
• But what does the new class do when they discover the school's beloved headmaster is actually a diabolical super villain? RUN AWAY!
• A SECRET WARS story like none other from the remarkable minds of Noelle Stevenson (LUMBERJANES) and Sanford Greene (UNCANNY AVENGERS)


Notes
In this story Tandy is Cloak and Tyrone is Dagger.
See Also
Footnotes
---
---
Community content is available under
CC-BY-SA
unless otherwise noted.