Overview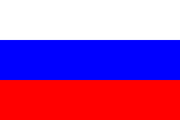 Russia (Россия), officially the Russian Federation is a sovereign state in northern Eurasia. It is the largest country in the world, covering more than one eighth of Earth's inhabited land area. Extending across the entirety of northern Asia and much of Eastern Europe. The capital and largest city is Moscow.
Formerly the Russian Soviet Federative Socialist Republic, a republic of the Union of Soviet Socialist Republics (USSR), Russia became the Russian Federation following the dissolution of the Soviet Union in December 1991.
History
Alternate Universes
Earth-1610
Russia organized an attack on New York City using their agent Perun and his Liberators. When the invasion was thwarted by the Ultimates, the country disavowed their role in the attack.[1]
Later, in an unrelated event, Frank Castle entered the country and executed the underworld criminal known as the "Red Hammer".[2]

Points of Interest
Residents
See Also
Links and References
Footnotes
Community content is available under
CC-BY-SA
unless otherwise noted.