Sentimault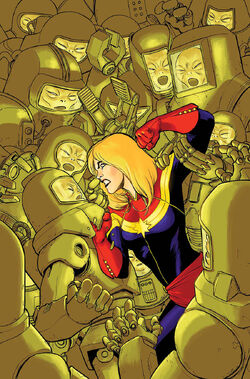 Identity and Affiliations
Physical Characteristics
Special Adaptations
Their exoskeletons shield them from radiation and hostile environments
Unusual Features
Artificial exoskeletons
Origin
Creators and Appearances
History
The Sentimault are a race of aliens who live in robotic bodies. After the destruction of their homeplanet by the Builders, they were relocated to the planet Torfa along with other refugees.[1]
Sentimault need their exoskeletons to survive anywhere other than their homeworld and they need bio-manufacturing to produce those exoskeletons. Although their fellow refugees had promised to help them rebuild so that they would not die out, the Sentimault knew that it would take two generations before that effort would reach fruition, by which time most of their population would have died. In desperation, some Sentimault agreed to secretly extract Vibranium from Torfa for the Spartax Empire using an unsafe process that polluted the groundwater of the planet[2] and caused illness and death.[3] Cepul, who was in charge of the extraction, tried to convince the other refugees to evacuate the planet, something that King J'Son of Spartax was already pressuring them to do.[1]
Their secret was later discovered by Captain Marvel, and Cepul was incarcerated.[2] Soon afterwards, the mines were found by Bee and, once they had been evacuated, destroyed by Captain Marvel.[4]
See Also
Links and References
Footnotes
Like this? Let us know!
Community content is available under
CC-BY-SA
unless otherwise noted.