Appearing in "Commission in Korea!"
Featured Characters:
Supporting Characters:
Locations:
Synopsis for "Commission in Korea!"
During the Korean War, The Howling Commandos are called together again to perform one more mission, to blow up one of the Korean MiG bases. "Happy Sam" Sawyer, who by now has advanced to Colonel, accompanies the team, much to the dismay of Nick Fury, who feels that Sawyer is too old for field missions. During the mission, Sawyer gets separated from the unit, but is saved just in time. At the end of the mission, Sawyer awards Nick Fury with a battlefield commission to 2nd Lieutenant, finally turning him into a commissioned officer.
Appearing in "A Re-Introduction to the Howlers!"
Featured Characters:
Supporting Characters:
Antagonists:
Other Characters:
Synopsis for "A Re-Introduction to the Howlers!"
An image gallery of past and present Howlers, as well as their allies and most notorious enemies. Also, a full-page spread "Bird's-eye view of H.Q., Able CO. at Fury's base in Britain".
Appearing in "Lord Ha-Ha's Last Laugh!"
Featured Characters:
Supporting Characters:
Antagonists:
Other Characters:
Races and Species:
Locations:
Synopsis for "Lord Ha-Ha's Last Laugh!"
The Howling Commandos are on leave in London when the air raid sirens go off. A British Red Cross worker asks Fury to help her get an injured boy out of the rubble and take him to a shelter. Back at the base, the commandos listen to one of Lord Ha-Ha's propaganda broadcasts. In Berlin, Ha-Ha signs off. He asks a Gestapo officer why he must always taunt the commandos; they hope that a squad will try to infiltrate Germany and get caught.
Capt. Sawyer delivers an invitation to Fury from Lord Hawley and orders him to go. At the mansion he meets Hawley's daughter, Pamela, the Red Cross worker. Hawley admits that Ha-Ha is his son, Percy, who was the Berlin correspondent for Hawley's newpaper before he was captured. Sawyer tells Fury that the commandos must rescue Percy.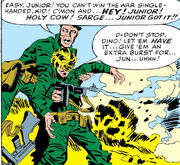 Fury and his squad parachute into Germany. Their contact is a lion tamer, who has a lion "escape" so she can meet them in the woods. The commandos disguise themselves as circus performers and enter Berlin. Fury and Manelli dress as soldiers and get Ha-Ha's whereabouts from the radio station. They pick up the other commandos and infiltrate the party leader's house where Ha-Ha is lunching, grab Percy, and fight their way back out. Holed up at Bremerhaven to wait for their submarine, they see a line of tanks coming by the house. Percy escapes to warn the Germans, but he takes a gun and fires it to get their attention, and they shoot him. Alerted to the presence of the commandos, the tanks open fire on the house. Juniper is killed by gunfire. The sub arrives and blasts the tanks.
Back at Hawley's estate, Fury tells Pamela that her brother died a hero.
Appearing in "At the Mercy of Baron Strucker"
Featured Characters:
Supporting Characters:
Antagonists:
Other Characters:
Locations:
Vehicles:
Short Sterling (or Stirling), bomber
Martin B-36 (meaning B-26) Mitchell Marauder, bomber
Focke-Wulf Fw 190, fighter/interceptor
Junkers Ju 88, multipurpose aircraft
150mm mobile howitzer on PzKw IV chassis
Synopsis for "At the Mercy of Baron Strucker"
"Last time out, we lost Junior Juniper!" yells Fury at his squad. "If we lose a man, it means somebody slipped up ... somebody was careless! And that means I ain't been tough enough on you!" And that means a brutal afternoon of training. In Bavaria, General Stroheim visits Baron Strucker with a mission from Hitler himself: defeat Nick Fury. Strucker personally flies over the base and drops a message challenging Fury to single combat on the island of Norsehaven near Denmark. Captain Sawyer refuses to let Fury go for what is essentially a personal matter. While dining with Hawley, Fury remembers a PT boat captain who owes a him a favor, and he goes to Norsehaven anyway.
On Norsehaven, Fury finds several German soldiers in addition to Strucker. Before the duel, Strucker insists he is an honorable Prussian and proposes a toast. Fury's drink is drugged. The fight begins with plywood swords, but soon Fury has passed out. The soldiers take pictures of him, which get published in all the Nazi newspapers.
Back at the base, Sawyer busts Fury down to private for insubordination. Dum-Dum becomes leader of the squad, which goes on their next mission as part of a "big push." They must destroy a rocket installation in Dortstadt, western Germany. After parachuting in, they carjack a mechanized artillery piece, which Manelli uses to blow up the rockets, the radar, and the planes. In the base's headquarters, they find Strucker, who is willing to have a rematch with Fury. Manelli advises Fury not to drink the toast, and that makes all the difference. This time Strucker ends up on the floor having his picture taken.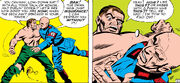 Days later, a visiting general wants to meet Sergeant Fury. Sawyer hastily promotes Fury and thinks, "Maybe I'll wake up and find out the whole thing was just a bad dream!!"
Notes
The reason that Nick Fury does not wear his trademark eyepatch in this issue is that although he suffered his eye injury while fighting in World War II, he did not lose eyesight in that eye until twenty years later. This is explained in

Sgt. Fury

#27.
See Also
Links and References
References
Like this? Let us know!