House of the Dragon Trailer - The Loop
Play Sound
Aw, what are we mopin' around for? Trouble with us is we're gettin' soft! Nobody's yelled at us for days!
Appearing in "The Court-Martial of Sergeant Fury"
Featured Characters:
Supporting Characters:
Antagonists:
Other Characters:
Locations:
Vehicles:
North American B-25 Mitchell, bomber
Synopsis for "The Court-Martial of Sergeant Fury"
A B-25 makes a night landing in France to pick up the Howling Commandos, who have captured a doodle-bug (small, mobile, tank-like Nazi bomb) in one piece. Instead the pilot tells Sergeant Fury that his squad has new orders: stay and help the Underground with a mission. As soon as the plane takes off, a German squad with a howitzer shows up. The squad drives them off, carjacks a command car, and heads for the rendezvous point. Their contact is an American first lieutenant named Spencer "Skinny" Parker, who turns out to be a classmate of Fury's and who has no tolerance for the commandos' informality. He leads them to an ammo dump nearby. Just as he's giving the order to attack, Fury stops him because he's remembered something. Parker pulls rank. Fury slugs him. A Messerschmidt spots them and drops a bomb, which knocks out Fury.
Days later, Fury awakens in the base hospital. Captain Sawyer tells him he's under arrest for insubordination and assaulting an officer, but Fury doesn't remember the incident. Sawyer goes to London to recruit William Ballinger, of the Judge Advocate Department, for Fury's defense.
At the court-martial, Parker takes the stand first. He says that the young Fury "was from the other side of the tracks ... always getting into some scrape or other." The prosecutor tries to establish a personal motive for Fury's attack. Then Ballinger asks Parker one question: "What was your real opinion of him—as a human being!" Parker pauses and answers, "I always wished—that I could be—half the man Nick Fury was!"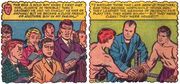 Out on the base, the Howlers hear that Sergeant "Bull" McGiveney has been telling people that Fury "finally got what's comin' to him." They pay him a visit, which lands McGiveney in the infirmary and the Howlers in the guardhouse. Back at the trial, Fury's doctor testifies that Fury could be faking his amnesia. For the defense, Chaplain Lewis Hargrove testifies that his brother might have become a bad egg if not for Fury's influence. Lord Hawley, Pamela Hawley, and Captain Sawyer all testify to Fury's good character. The defense is about to rest, when suddenly the air raid sirens go off. A massive wave of German bombers approaches the base. A bomb lands on the courtroom, burying Fury and his guards in the rubble. When he digs himself and the guards out, Fury has regained his memory!
The guardhouse has also been hit by a bomb, and the Howlers escape. Fury tells them to find a German prisoner named Otto Shmidt. When the court-martial resumes, Ballinger calls Shmidt as a witness. He testifies that, when he was captured, he told Fury that the Germans had set up a fake ammo dump as a trap. When Parker realizes that Fury saved his and his men's lives, he drops the charges.
Notes
This issue is reprinted in other comics and books, see references for more info.[1]
Trivia
The inker's name is given as "Geo. Bell."
See Also
Links and References
Footnotes
↑ This story is reprinted in the following comics/TPB's:

Marvel Masterworks: Sgt. Fury and His Howling Commandos

#1
Like this? Let us know!