House of the Dragon Trailer - The Loop
Play Sound
Appearing in "The Fangs of the Desert Fox!"
Featured Characters:
Supporting Characters:
Antagonists:
Nazis

Otto, Fritz, and unnamed, Nazi saboteurs
unnamed German soldiers
Other Characters:
Locations:
Vehicles:
Junkers Ju 87 Stuka, dive bomber
Synopsis for "The Fangs of the Desert Fox!"
With his jeep on the fritz, Fury has to take a bicycle to get to a date with Hawley. He hits a tripwire and upsets. Before he can get up again, three Nazi saboteurs attack, but they are no match for an American commando. At the theater, Fury and Hawley watch a newsreel about the campaign in North Africa, where the Axis commander, Rommel (the "Desert Fox"), is "winnin' Hitler's whole war for 'im practically single-handed!" Soon, his Howling Commandos get the word that they're going to Africa. Before they leave, though, they do some intensive training, including parachute training. On the last jump, Manelli's 'chute won't open. The only one who can reach him is Fury, who frees the 'chute, but is he in time? Barely—Manelli lands in a tree and breaks his leg.
George Stonewell replaces Manelli as the only Howler who can speak German. During introductions, he snubs Manelli and Cohen, tells Ralston, "Glad there's one of my kind in this squad!" and refuses to bunk with Jones. Fury is furious. "There's no time to trade ya in for a real human being! ... You so much as look crosseyed at Izzy, or Gabe, or anyone because of his race or color, and I'll make ya wish you were never born!"
Near Tobruk, Libya, the commandos encounter the first line of defense around Rommel's headquarters. Fury orders the radio operator silenced. Stonewell pushes Jones aside to do the job but alerts the radioman, who gets a message out. Cohen commandeers a car and an officer. Four Stukas appear, and the commandos hide beneath an overhang. Stonewell interrogates the officer, who's noticed Stonewell's "superior Ayran" (sic) attitude and offers to spare him if he'll arrange an escape. "I've got no use for Nazis, either!" says Stonewell. The Stukas return. The officer breaks loose and runs into the open, where a pilot shoots him, unable to see the uniform from his altitude. Fury and Cohen take the car to lead the planes away from the squad and trick one into crashing. The others bomb the car, and Fury and Cohen jump free at the last second.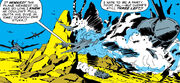 Back at the camp, Dugan upbraids Stonewell for allowing the officer to get loose. Stonewell says, "It wasn't my fault!" Fury says, "Whose fault was it, soldier?? Eisenhower's?? Guys like you are all alike—not man enough to take any blame!" They proceed on foot, and a few hours later they come across a caravan. The chief and his people have been robbed and enslaved by the Nazis, so he loans them horses and guides them to Rommel's camp. They creep over the last hill and see an entire division rolling across the desert. Fury orders Stonewell to get Cohen past the bodyguards so that he can assassinate Rommel. Within sight of Rommel's tent, Stonewell moves ahead to do the job himself. Cohen tells him to follow orders. The two begin to fight, which draws the attention of Rommel's bodyguards. They throw a grenade. Stonewell throws it back, which eliminates the bodyguards but wounds him. Cohen carries him into a street, where the rest of the Howlers pick them up in an armored car. They escape through a sandstorm.
Once through the storm, they find a German medical unit. Stonewell needs a blood transfusion. He has a rare blood type, and Jones is the only match. Shortly afterward, the British army captures the unit. They tell Fury that their mission was to find the commandos and stop the assassination: they've learned that Rommel is the highest-ranking officer in a German plot to assassinate Hitler.
Back at their base, the commandos watch Stonewell silently stow his gear. He's been reassigned. On his way out, though, he drops a note with his new APO, and it's addressed to Cohen and Jones.
Appearing in "Fury's Friends and Foes"
Featured Characters:
Supporting Characters:
Dr. Terry Reiker

Sister Theresa

Sophia

Irma
Antagonists:
Japanese Officer from Tarawa
Vice Admiral Ribbendorf
General von Krummpt
Frau Gerta
Synopsis for "Fury's Friends and Foes"
three pages featuring a Character gallery
Appearing in "Weapons of War"
Appearances not yet listed
Synopsis for "Weapons of War"
four pages featuring a Weapon and Vehicle gallery
Appearing in "The Court-Martial of Sergeant Fury"
Featured Characters:
Supporting Characters:
Antagonists:
Other Characters:
Locations:
Vehicles:
North American B-25 Mitchell, bomber
Synopsis for "The Court-Martial of Sergeant Fury"
A B-25 makes a night landing in France to pick up the Howling Commandos, who have captured a doodle-bug (small, mobile, tank-like Nazi bomb) in one piece. Instead the pilot tells Sergeant Fury that his squad has new orders: stay and help the Underground with a mission. As soon as the plane takes off, a German squad with a howitzer shows up. The squad drives them off, carjacks a command car, and heads for the rendezvous point. Their contact is an American first lieutenant named Spencer "Skinny" Parker, who turns out to be a classmate of Fury's and who has no tolerance for the commandos' informality. He leads them to an ammo dump nearby. Just as he's giving the order to attack, Fury stops him because he's remembered something. Parker pulls rank. Fury slugs him. A Messerschmidt spots them and drops a bomb, which knocks out Fury.
Days later, Fury awakens in the base hospital. Captain Sawyer tells him he's under arrest for insubordination and assaulting an officer, but Fury doesn't remember the incident. Sawyer goes to London to recruit William Ballinger, of the Judge Advocate Department, for Fury's defense.
At the court-martial, Parker takes the stand first. He says that the young Fury "was from the other side of the tracks ... always getting into some scrape or other." The prosecutor tries to establish a personal motive for Fury's attack. Then Ballinger asks Parker one question: "What was your real opinion of him—as a human being!" Parker pauses and answers, "I always wished—that I could be—half the man Nick Fury was!"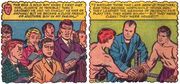 Out on the base, the Howlers hear that Sergeant "Bull" McGiveney has been telling people that Fury "finally got what's comin' to him." They pay him a visit, which lands McGiveney in the infirmary and the Howlers in the guardhouse. Back at the trial, Fury's doctor testifies that Fury could be faking his amnesia. For the defense, Chaplain Lewis Hargrove testifies that his brother might have become a bad egg if not for Fury's influence. Lord Hawley, Pamela Hawley, and Captain Sawyer all testify to Fury's good character. The defense is about to rest, when suddenly the air raid sirens go off. A massive wave of German bombers approaches the base. A bomb lands on the courtroom, burying Fury and his guards in the rubble. When he digs himself and the guards out, Fury has regained his memory!
The guardhouse has also been hit by a bomb, and the Howlers escape. Fury tells them to find a German prisoner named Otto Shmidt. When the court-martial resumes, Ballinger calls Shmidt as a witness. He testifies that, when he was captured, he told Fury that the Germans had set up a fake ammo dump as a trap. When Parker realizes that Fury saved his and his men's lives, he drops the charges.
See Also
Links and References
Footnotes
Like this? Let us know!