Part of the "
Siege
" event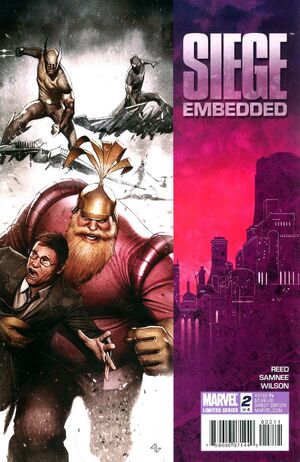 Textless

2nd Printing
Previous Issue
Next Issue
Gentlemen! I am out of pork rinds. ... Also, there are questions here, my own answers to which I find fascinating. They concern your feelings regarding observing yourself disrobed in the mirror.

-- Volstagg
Appearing in 1st story
Featured Characters:
Supporting Characters:
Antagonists:
Other Characters:
Locations:
Items:
Vehicles:
Synopsis for 1st story
Ben Urich, Will Stern and Volstagg have stopped at a gas station in Sullivan, Missouri. The former goes inside to interview the elderly female clerk over her opinion of Osborn taking action against Asgard. Meanwhile, Volstagg feels cramped and hungry in their van and pokes out the back, asking for food though Stern warns him not to be seen. As Stern goes in to buy some food and a magazine, a newscast from Todd Keller preaches that Osborn is the only hope for America.
As the trio get back on the road, Stern and Urich try to explain how Keller is manipulating the common people into accepting Osborn's views; Volstagg compares Keller to a fire giant.
At Tinker Air Force base, Keller is documenting about Osborn assembling H.A.M.M.E.R. to deal with Asgard. Gueststarring on his show is Osborn himself, in his Iron Patriot armor. But once the camera turn off, Keller demands to know who is in the suit, knowing that Osborn would also show his face for the cameras. Agent Abrams shows him that the suit is just a robot and assures him that having Osborn on his show is good enough ratings. Abrams then tells Keller that they are about to invade Asgard and he is going to tell the world that it is a good idea.
Meanwhile, the trio come upon a roadblock, with H.A.M.M.E.R. keeping the vehicles going into Oklahoma monitored. Worse, H.A.M.M.E.R. finds Volstagg and demands that he step out of the van. Thinking that they are the Oklahoma police, Vosltagg is willing to turn himself in to redeem himself, only for Stern to inform him that the H.A.M.M.E.R. agents are working for Osborn. Therefore, Volstagg leaps out and starts fighting the agents, even managing to hop on a Goblin glider. Urich and Stern try to drive past the traffic, only to be caught by H.A.M.M.E.R. They are bound and brought to Tinker Air Force base. Luckily, when the agents open the doors to the truck they are in, Stern fakes a seizure, before knocking the agent out with his legs. He then grasps the keys and unlocks both his and Urich's cuffs; he compares themselves to Butch and Sundance; Urich points out that they died at the end of the story. They then start running.


Solicit Synopsis
SIEGE BLOCKBUSTER TIE-IN!! As Norman Osborn's siege on Asgard heats up, there is one god missing. But not for long, and he's got company. The true face of Norman Osborn stands to be revealed, and this may be the god to do it!

See Also
Links and References
http://marvel.com/catalog/?id=13979
Footnotes
---
---
Community content is available under
CC-BY-SA
unless otherwise noted.