Doctor Strange in The Multiverse o Madness - The Loop
Play Sound
He may be a fellow reptile to you, but in the Coalsack Nebula, he tried to kill me!
Appearing in "Neanderthals!"
Featured Characters:
Supporting Characters:
Antagonists:
Other Characters:
Races and Species:
Locations:
Items:
Vehicles:
Synopsis for "Neanderthals!"
Brief Summary:
The Skrulls and Captain Reptyl prepare for their war with the Kree. Shalla-Bal is kidnapped by a Kree Sentry for the secret that she knows about Supreme Leader Nenora. That she is a Skrull in disguise. Captain Reptyl starts a fight with the Super-Skrull and kills him in battle. Reptyl takes over the command of the Skrull forces and the Silver Surfer holds a funeral for the Super-Skrull.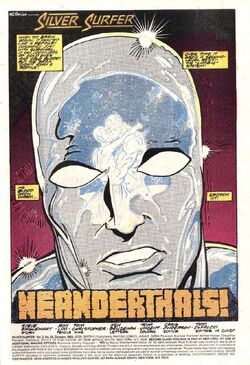 Detailed Summary:
As the Skrulls prepare for their war with the Kree, Captain Reptyl collects his weapons and crew from the Coalsack Nebula. The Silver Surfer tries to contact Shalla-Bal, but she is currently away in the deserts of Zenn-La.
Shalla-Bal is creating plant life in the desert when a hidden Kree Sentry breaks through the earth and captures her. Supreme Leader Nenora has ordered her to be captured and brought back to Kree-Lar, because she has found out that Shalla-Bal knows that she is really a Skrull in disguise. The Contemplator continues his exploration of Kree-Lar, hidden within his astral form, when he comes across the Supreme Intelligence in a catatonic state.
Captain Reptyl returns to Satriani and the Skrulls. He starts a fight with the Super-Skrull and they engage in lethal combat. Reptyl bites the Super-Skrull's neck and fells him. The Silver Surfer swoops in to avenge his death, but Empress S'Byll stops the fight from continuing. She explains to the Surfer that the Super-Skrull was proven weak and now Captain Reptyl will lead the Skrulls into battle. The Silver Surfer brings the Super-Skrull's body into space, sending him to rest in peace on a nearby planet.
Solicit Synopsis
Cap'n Reptyl joins Skrulls! Shalla Bal is kidnapped by the Kree! And the Silver Surfer can't stop the war from happening!
Notes
Trivia
"The Cosmic Pipeline" letter column has letters published from: Dale Coe, Ron Erickson, Bradford Poston, Phil Thompson, Randy Dainard, Rick and Lisa Van Hoose, and John Migala
See Also
Recommended Reading
The story references:
Links and References
Englehart, Steve. Silver Surfer 25-31. Steve Englehart: Books, Film, Comics, Games.... Retrieved on 6 Oct 2021.
Grand Comics Database. Silver Surfer Vol 1 28. Grand Comics Database. Retrieved on 14 Oct 2021.
References
Like this? Let us know!