History
Overview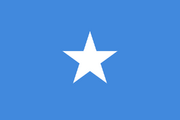 Somalia, officially the Federal Republic of Somalia, is a country located in the Horn of Africa. It is bordered by Ethiopia to the west, Djibouti to the northwest, the Gulf of Aden to the north, the Indian Ocean to the east, and Kenya to the southwest. It's capital and largest city is Mogadishu.
Modern Era
The Bio-Genes were a group who intended to purge Somalia from the United States influence.[1]
Jonathan Shepherd wanted Domino to undertake a mission in Mogadishu, Somalia, but Domino insists on tracking the leads on her mother instead.[2]
...[3]
...[4]
...[5]
Journalist Uri Friedman was covering political uprisings in the country when his camp was overrun by terrorists. He was eventually rescued by Black Widow and the Howling Commandos.[6]
Points of Interest
Residents
See Also
Links and References
Footnotes
Like this? Let us know!