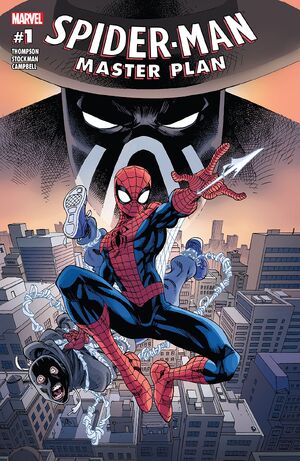 Textless

Camuncoli Variant Textless

Lim Variant Textless
Previous Issue
Next Issue
As I was saying: What is going on here? Was there a sale on ski masks? Is there a crime convention in town? Wait. Is CrimeCon a thing?

-- Spider-Man
Appearing in "Master Plan"
Featured Characters:
Antagonists:
Numerous unnamed criminals

(Only appearance)

[1]
Other Characters:
Races and Species:
Locations:
Items:
Synopsis for "Master Plan"
Synopsis not yet written.


Appearing in "Duel to the Death with the Vulture!"
Featured Characters:
Supporting Characters:
Antagonists:
Other Characters:
Numerous unnamed New Yorkers
NOW Magazine

(First appearance)

Numerous other unnamed Midtown High School students
Uncle Ben

(Photo)

NYPD
Races and Species:
Locations:
Items:
Synopsis for "Duel to the Death with the Vulture!"
Nothing I like better than taunting my enemies!

--Vulture
New York City is being terrorized by a new criminal called the Vulture. He is equipped with artificial wings that allow him to swoop down on his victims, snatch their valuables, and fly away before they know what is happening. Nobody has been able to photograph him, and J. Jonah Jameson needs pictures to illustrate his Vulture feature article for NOW Magazine. Peter Parker decides to try to photograph the criminal in action. Selling the photographs will help him and his Aunt May make ends meet.
Meanwhile, the Vulture is in an abandoned silo, his Staten Island hideout, making plans to hit the Park Avenue Jewelry Exchange. As he flies out over the city, he is spotted by Spider-Man, who is equipped with a miniature camera once owned by his late Uncle Ben. Spider-Man manages to take some photographs of the Vulture, but the Vulture sees him, attacks him from behind, knocks him out, and dumps him into a water tower. After breaking out of the water tower, Spider-Man heads home, where he adds some improvements to his devices and develops his photographs.
The next day, Peter Parker arrives at J. Jonah Jameson's office with pictures of the Vulture. The publisher is very impressed and pays him well. The next day Peter heads for the Park Avenue Diamond Exchange, which the Vulture tauntingly announced to the public as the site of his next robbery. While everybody expects the Vulture to strike from above, he strikes from beneath a manhole cover, seizes a case of diamonds, and flees through the New York City sewer system. Spider-Man uses his Spider-Sense to track him down and wins their battle with an anti-magnetic inverter, a device he built to counteract the magnetic power that the Vulture uses for flight. The Vulture is left for the police, and Peter Parker has photographs of the Vulture's capture, which he sells to J. Jonah Jameson for a large sum of money. Peter and Aunt May are able to make ends meet.


Solicit Synopsis
CRIME DOES PAY!
• Everything's going perfectly for PETER PARKER… he's got some time off and landed tickets to the hottest Broadway show in town…
• …which means there's another shoe ready to drop somewhere…
• Join everyone's favorite web-slinger in an all-new story against his classic foe THE CRIME MASTER!
• Also including a special reprinting of AMAZING SPIDER-MAN #2, featuring the first appearance of THE VULTURE!

See Also
Footnotes
↑

First and only known appearance to date besides flashbacks
---
---
Community content is available under
CC-BY-SA
unless otherwise noted.