House of the Dragon Trailer - The Loop
Play Sound
History
It was a list of files and folders Mystique scrolled past while trying to steal files on Magneto's plastic prison.[1] It is unrevealed what became of the files after Stryker's death.
Notes
In X2, there are files and folders on one of Stryker's computer. The folders list some well-known individuals or places from the X-Men universe.
In her infiltration, Mystique scrolls through these folders and lists when accessing Magneto's files. Various characters and places briefly appears on a computer monitor among government files relating to mutants.
Trivia
On Yuriko's computer, upon closer inspection, you can see that Stryker is keeping files on a list of mutants including (in the order they are listed):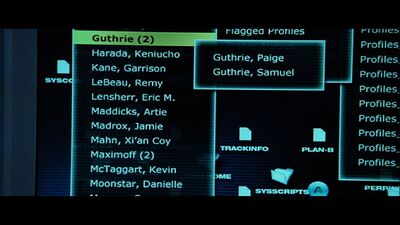 Allerdyce, John (aka Pyro)
Aquilla, Amara (aka Magma)
Blaire, Alyson (aka Dazzler)
Blevins, Sally (aka Skids)
Braddock, Elizabeth (aka Psylocke)
Callasantos, Maria (aka Feral)
Cassidy (2)
Cheney, Lila
Creed, Victor (aka Sabretooth)
DaCosta, Roberto (aka Sunspot)
Dane, Lorna (aka Polaris)
Drake, Bobby (aka Iceman)
Dukes, Fred (aka Blob)
Espinosa, Angelo (aka Skin)
Gibney, Kyle (aka Wild Child)
Guthrie (2)
Harada, Keniucho (aka Silver Samurai)
Kane, Garrison (aka Weapon X)
LeBeau, Remy (aka Gambit)
Lensherr, Eric M. (aka Magneto)
Maddicks, Artie
Madrox, Jamie (aka Multiple Man)
Xi'an Coy Mahn (aka Karma)
Maximoff (2)
McTaggart, Kevin (Proteus)
Moonstar, Danielle (Moonstar)
Munroe, Ororo (Storm)
McCoy, Hank (Beast)
In addition to the list of mutants, on another screen there are a series of folders on the computer's desktop. These folders listed some well-known individuals or places from the X-Men universe, including: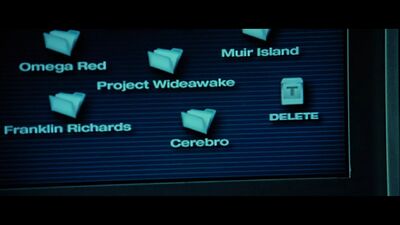 John Allerdyce (aka Pyro)
Ruth Bat-Seraph (aka Sabra)
Cecelia Reyes
Everett Thomas (aka Synch)
Victor Creed (aka Sabretooth)
Nichole St. Croix
Claudette St. Croix
Kurt Wagner (aka Nightcrawler)
Raven Darkholme (aka Mystique)
Jamie Madrox (Multiple Man)
Lila Cheney
Vanessa Carlysle (aka Copycat)
Wade Wilson (aka Deadpool)
Scott Summers (aka Cyclops)
Doug Ramsey (aka Cypher)
Alyson Blaire (aka Dazzler)
Maria Callasantos (aka Feral)
Andrea von Strucker
Andreas von Strucker
Remy LeBeau (Gambit)
Bobby Drake (aka Iceman)
Paige Guthrie (aka Husk)
Yuriko Oyama (aka Lady Deathstrike)
Tom Cassidy (aka Black Tom Cassidy)
Artie Maddicks
Eric M. Lensherr (Magneto)
David North (aka Christoph Nord, Maverick, and Agent Zero )
Tabitha Smith (aka Boom-Boom)
Calvin Rankin (aka Mimic)
Dr Nathaniel Essex (aka Sinister)
Garrison Kane (aka Weapon X)
Mortimer Toynbee (aka Toad)
Illyana Rasputin (aka Magik)
Theresa Rourke (aka Theresa Cassidy and Siryn)
Sally Blevins (aka Skids)
Angelo Espinosa (aka Skin)
Shiro Yoshida (aka Sunfire)
Guido Carosella (aka Strong Guy)
Ororo Munroe (aka Storm)
Keniucho Harada (Silver Samurai)
Katherine Pryde (aka Shadowcat)
Dr. Karl Lykos (aka Sauron)
Omega Red
Xavier's School
Blackbird
Massachusetts Academy
Trask
Graymalkin
Zero Tolerance
Project Wide Awake
Beta Flight
Jamie Braddock
Danger Room
Forge
Dept H
Brotherhood (of Evil Mutants)
Weapon X
Gamma Flight
Rahne Sinclair (aka Wolfsbane)
Cerebro
Legacy (Virus)
Salem Center
Franklin Richards
Alpha Flight
Muir Island
Morlocks
Kevin McTaggart
See Also
Links and References
Footnotes
Like this? Let us know!