History
The Tablet of Order and Chaos is the most powerful mystic artifact in the Earth-TRN579 universe. Spider-Man shattered it during a fight with Mysterio who was there to steal it and made off with a fragment of it. Madame Web explained that the pieces were scattered across their universe, as well as two others and that if they didn't retrieve the fragments, their worlds would be destroyed. The villains who found it had their powers augmented to fulfill their desire to kill their universe's Spider-Man:
After collecting all of the pieces, the tablet was restored back to one piece, but was taken by Mysterio who had his powers augmented to beyond god-like powers and started to rip the multiverse apart with his new powers.
Luckily, Mysterio was defeated by the Spider-Men of Earth-TRN579, Earth-TRN581, and Earth-TRN580. Mysterio tried to reclaim the tablet but was easily knocked out by the Spider-Men.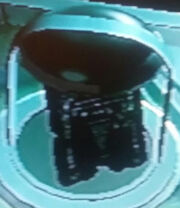 On Earth-TRN199, Peter Parker kept the Tablet on display on his desk in the Alchemax Building. [1]
See Also
Links and References
Footnotes
Community content is available under
CC-BY-SA
unless otherwise noted.