Wiki Targeted (Entertainment)
Play Sound
It was my destiny to guide sentient life, but that means nothing now. In truth, I grow...ever more weary. Soon I will not have strength enough to...keep this...encumbrance...at bay. The moment to come, not even I will survive. I, who was meant for such grand designs, will perish with the rest. That...that is the finality which we now face.
—Tarene as Thor Girl
History
The Designate
In the beginning of time, alien sorcerer X'Hoss foretold the creation of the Designate, who would help evolve sentient beings to the next level of existence. Billions of years later, Tarene was born. She was told about the fate of the evil Destroyer and together with others sought a way to stop him. In the meantime, Thanos obtained X'Hoss' knowledge and destroyed Tarene's home-world. She gained the help of Thor and Orikal in defeating the villain.[3][4]
Tarene later transformed herself into an Asgardian goddess and becomes Thor's loyal ally, taking the name "Thor Girl" and the civilian identity of Jake Olson's 'cousin' Tara. She tried to assist Thor in his adventures, aiding him in his confrontations with Gladiator, Loki and Nullitor, but in a later battle against a revived Surtur she sacrificed nearly all of her cosmic powers to contribute the additional power needed to defeat him. Upon Odin's apparent death, Thor Girl lost most of her cosmic powers. She retained the powers she had as Thor Girl.
She returned to Earth in an attempt to live a normal life as Tara Olson, but also occasionally continued adventuring. She knew that she was destined to, and one day would, regain her full power and then some, to become The Designate.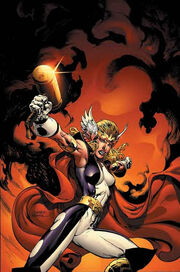 Civil War/The Initiative
After the Superhuman Registration Act was passed, Thor Girl interfered in a jewel theft undertaken by the Grey Gargoyle, a previous foe of hers, and pummelled the villain, preventing the jewel heist in the process. In return the Grey Gargoyle undertook a lawsuit with the assistance of Mallory Book at the Superhuman Law Offices of Goodman, Lieber, Kurtzberg and Holloway.[2]
Thor Girl was believed to have been among the first recruits for the Camp Hammond training facility. Other fellow trainees included Bengal, Cloud 9, Slapstick, Trauma, Armory, Rage and Komodo when she had in fact been replaced by a Skrull duplicate.[2]
It was unknown when she had been replaced by a Skrull agent and her replacement remained undiscovered until the Skrull invasion, when the Skrull Dum Dum Dugan called all the sleeper agents in the Initiative, causing Ultragirl and Thor Girl to fight each other out of fear. When the Skrull Kill Krew arrived to the scene, 3-D Man confirmed that Thor Girl was a Skrull, killing her with her own hammer with the help of Gravity.[5]
After the invasion was over, the real Thor Girl attended a support group meeting with the others who had been replaced by Skrulls.[6] She attended a therapy session with Trauma, when Camp Hammond was attacked by the Thor clone, Ragnarok. The clone beat Thor Girl badly, until Gauntlet intervened.[7]
Due to looking like an Asgardian wielding a hammer, Tarene was believed to be part of the attack of The Worthy. She was arrested by the U. S. government and tortured for information. She was eventually rescued by Cloud 9 and joined the battle against Kuurth in Las Vegas and rescued civilians. Due to a misunderstanding she was attacked by other heroes despite her attempts to explain herself as she was only acting in defense. During the battle, her Designate powers returned. She declared Earth's heroes to be little better than those who tortured her and as a whole proof that humanity were still too flawed to be worthy of ascending. She then left Earth for the stars.[8]
Powers and Abilities
Powers
Despite being an alien Tarene displays the average ability of an Asgardian, although to an higher degree.
Abilities
Physical Strength
Class 75: Tarene can lift (press) approximately 75 tons under optimal conditions.
Paraphernalia
Weapons
Notes
See Also
Links and References
Footnotes
Like this? Let us know!