Texas Revolution
Event Details
Characters
Event Synopsis
Overview
The Texas Revolution (October 2, 1835 – April 21, 1836) began when colonists (primarily from the United States) in the Mexican province of Texas rebelled against the increasingly centralist Mexican government.
Events
Republic of Texas
In 1835 A.D., the Texas Revolution began when American colonists in the Mexican province of Texas rebelled.[1]
Battle of the Alamo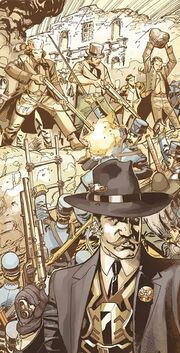 In 1836 A.D., the "Battle of the Alamo" took place, a pivotal event in the Texas Revolution. The Mexican Army under the President General Antonio Lopez de Santa Anna launched an assault on the Alamo Mission. Though vastly outnumbered, the Alamo's 200 defenders commanded by James Bowie and William Travis and including the famed frontiersman Davy Crockett.[1]
Nostradamus predicted the battle and the Brotherhood of the Shield sent an agent to help in the cause.[2]
Two men from California, Carlos Cortez and his friend known as the Dude, heard about Colonel Travis' fight with Santa Anna who was know as a tyrant in their homeland. They rode to the Alamo to help him. Colonel Travis gathered the pair, along with Little Flower and the Kid, and sent them on a mission to with a letter to summon the reinforcements of General Sam Houston.[1]
They held out courageously for thirteen days before the Mexican invaders finally overpowered them killing them all.[1]
Jim Hawk, the father of Dan Hawk, the Kid from Texas, was killed in the battle of Alamo.[3]
Makkari was present during battle of the Alamo.[4]
The Renegades
The team with the letter arrived at General Houston's camp but learned they were to late hearing of the defeat at the Alamo. The letter delivered to General Houston about the battle inspired many Texans and other Americans to join the battle. The Texans defeated the Mexican Army at the Battle of San Jacinto, on April 21, 1836, ending the revolution.[5]
However after the battle they were labelled the Renegades as they believed they were deserters. However after being driven out of the camp they found Santa Anna and captured him tying him up and leaving him in General Houston's camp with a letter signed the Renegades.[5]
Remember the Alamo
The battle became part of history with the mission becoming an American landmark. The phrase "Remember the Alamo" became synonymous with fighting a battle outnumbered.[6]
The World War II hero: Major Liberty had the power to summon ghosts from the past. He used them to study history speaking to learn first hand events. He transcribed a conversation between James Bowie and Davy Crockett. The pair were outraged to learn the Renegades were wrongly identified as cowards. He also spoke with General Houston, confirmed their bravery.[7]
Notes
Trivia
See Also
Links and References
Footnotes
Community content is available under
CC-BY-SA
unless otherwise noted.