The Incredible Hulk: The Pantheon Saga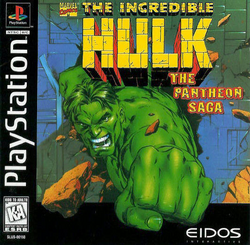 Title
The Incredible Hulk: The Pantheon Saga
Game Details
Release Date
December 1996 (PlayStation; EU)
February 28, 1997 (PlayStation; NA)
January 1, 1997 (Saturn; NA)
Developers
Attention To Detail/Silicon Dreams
Publishers
Eidos Interactive
Platforms
PlayStation, Sega Saturn, DOS
Appearances
Featured Characters:
Supporting Characters:
Antagonists:
Other Characters:
Locations:
Items:
Vehicles:
Synopsis
The video game begins with the Hulk begin captured by the Pantheon and breaking free just as their cargo ship lands in the Pantheon's mountain headquarters. The brief intermission exposition scenes between the levels do not explain much of the storyline. In the first four levels, the player battles inside the Pantheon secret headquarters, until the Pantheon members Atalanta, Ulysses, Ajax and Hector are located and defeated. After defeating them, they become your allies, and can temporary appear on screen to help the player. The storline shifts to several more side-scrolling levels where the player battles super-villains such as Piecemeal, Trauma, Lazarus, the U-Foes and the Maestro.
See Also
Links and References
Footnotes
Like this? Let us know!
Community content is available under
CC-BY-SA
unless otherwise noted.