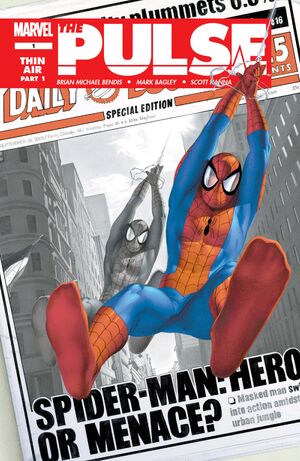 Textless
Previous Issue
Next Issue
—
Appearing in "Thin Air (Part 1 of 5)"
Featured Characters:
Supporting Characters:
Other Characters:
Races and Species:
Locations:
Items:
Synopsis for "Thin Air (Part 1 of 5)"
At a newsstand, Ben Urich reads a front-page Daily Bugle article, written by Kat Farrell, about a deadly Spider-Man/Dr. Octopus battle in Midtown. Deeper inside the paper, on page 17-c, he finds his own article about a Yakuza outburst in Hell's Kitchen.
In Central Park, no one seems to notice what looks like a body floating in the reservoir.
At Luke Cage's apartment, Jessica Jones wakes and leaves for a job interview.
In Central Park, a pretzel vendor notices the object floating in the reservoir.
At the Goodman Building, Jessica reconsiders her interview before meeting with Editor-in-Chief Robbie Robertson, who escorts her across the bustling news floor where she encounters Urich. Robertson leads Jessica to the office of J. Jonah Jameson, who laments the decline of the newspaper industry before admitting that his relationship with Jessica has caused him to reconsider some of his beliefs regarding "costumed vigilantes." Jameson acknowledges that his personal disdain for superheroes is hurting his newspaper, and offers Jessica a job as "a vigilante analyst" for "a special weekly section of the paper. Tentatively called The Pulse, the stories for which will be written by Urich. Jessica insists on health insurance and a stable contract before admitting that she's pregnant with Luke's child, and Jameson requests that part of their deal will give the Bugle exclusive coverage of the announcement and birth. Jameson admits that Ben's best reporting days may be behind him, but The Pulse is about Jessica.
In Central Park, the pretzel vendor reports the floating object to a police officer, who radioes in "a body, possible homicide."
At a bar, Jameson offers Urich an assignment writing for The Pulse. Urich asks if Jameson has forgiven him for refusing to reveal Daredevil's secret identity, and Jameson admits that he'll resent Urich for withholding that information until the day that Urich dies. Jameson admits that Jessica is a "B-level" "washout," but The Pulse is about Ben, and insists that the first story that Urich writes has to "be a doozy."
In Central Park, police fish the body of a woman out of the water and determine that "she was dropped in a fly-by" as a technician locates the woman's identification.


Trivia
Jameson mentions Jessica's rescue of Mattie Franklin which occurred Alias #16-21.
See Also
Footnotes
---
---
Community content is available under
CC-BY-SA
unless otherwise noted.