The Uncanny X-Men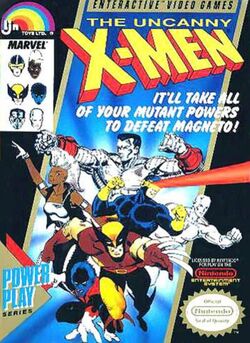 Aliases
Marvel's X-Men, X-Men
Game Details
Release Date
December 1989
Developers
Unknown (most likely Atlus)
Media
4-megabit cartridge
Appearances
Featured Characters:
Supporting Characters:
Antagonists:
Other Characters:
Locations:
Items:
Vehicles:
Synopsis
Magneto and his army of henchman embark on a rampage that threatens to jeopardize the entire human race. The only obstacle that stands in his way are Professor Xavier and his team, the uncanny X-Men.
Trivia
The Uncanny X-Men is one of the handful of titles by LJN that was developed by an undisclosed external developer. It has been speculated to be developed by Atlus, however.
It is the second-to-last game to be released under the Enteractive Video Games label and the last to be released before LJN was sold to Acclaim Entertainment.
Emma Frost appears in the game for NES, at the end of the fourth level, "Battle on a Living Starship." As a boss, Frost morphs into the player's chosen character and mimics their attacks, periodically returning to her normal form. Unless players are able to decipher the hidden code written on the front of the game, this is the final level of the game.
See Also
Links and References
Footnotes
Like this? Let us know!
Community content is available under
CC-BY-SA
unless otherwise noted.