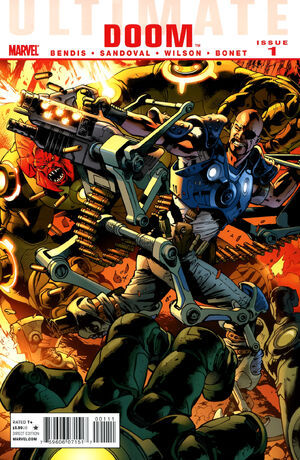 Previous Issue
Next Issue
You--you faked your death? You killed your family? You--you attacked the world...? Why--why would you do this?
Appearing in "Ultimate Doom (Part I)"
Featured Characters:
Supporting Characters:
Antagonists:
Other Characters:
Locations:
Items:
Vehicles:
Synopsis for "Ultimate Doom (Part I)"
A deeply angst Susan Storm is shocked to see an alive Reed Richards, who is behind the attacks on Roxxon and the Baxter Building, and killing his family. Reed confesses to her that he is responsible for his actions. A fight erupts between Susan and Reed in which she is violently electrified and thrown across the room, which forces a hidden Rick Jones to come out and blast Reed; however, Reed dodges Rick's energy beam which hits the portal that was created by Reed, and causing to create a vortex which sucks everything. Reed is dragged into the vortex before Susan has any chance to capture him. Rick teleports himself and Susan out of Project Pegasus to the Triskelion.
At Roxxon, Jessica Drew awakens to find herself restrained on an operating table and examined by Roxxon's Brain Trust, who now know about her true identity. Among them is Dr. Octopus, the leader of the Brain Trust, and reveals to his group of the reason Drew is involved.
Back at the Triskelion, Susan is rushed to the emergency room. An angered Johnny - who in the process flames on and causes the building's sprinklers to turn on - demands Rick in directing him to Reed. Rick tries to explain to him, Ben Grimm, Nick Fury, Carol Danvers, and Captain Mahr Vehl about what happened at Project Pegasus. Ben reasons Johnny and Fury that they cannot go after Reed because of Susan, who suddenly flatlines which forces the doctor to defibrillate her as Ben and Johnny watch in horror.


Solicit Synopsis
The enemy has revealed itself and the Ultimate Universe has been rocked to its very core. Now, the surviving heroes must put together the most bad ass covert ops team ever if they have any chance of catching up to the enemy before he/she strikes again. Ultimate Doom is a story you have never seen in a Marvel Comics, and we promise you--no hype--the Ultimate Universe changes forever. The dynamic duo of Brian Bendis (Mighty Avengers) and Rafa Sandoval (Avengers Initiative) bring you the concluding tale in the Ultimate Enemy trilogy—and it'll shock you beyond belief!

See Also
Links and References
Footnotes
---
---