Previous Episode
Next Episode
Agent Phil Coulson is kind of... cool!?

-- Spider-Man
Appearing in "Attack of the Beetle"
Featured Characters:
Supporting Characters:
Villains:
Other Characters:
Locations:
Items:
Vehicles:
Synopsis for "Attack of the Beetle"
Spider-Man battles the Beetle in a fancy restaurant in Manhattan while his Aunt May watches, the Beetle fires a missile at her. But the full story is revealed with a Flashback to the morning, during a meeting between Aunt May and Principal Coulson and secret S.H.I.E.L.D. handler, Agent Coulson. The two hit it off and which really annoyed Peter as his two worlds appear to be colliding. Peter is horrified when Aunt May goes on a date with his principal. Spider-Man stalks them to a restaurant, and is freaked out when Coulson touches her back. Spider-Man does his best to disrupt the date by stealing food and calling him pretending to be Nick Fury. He then spills water on him and confronts Coulson in the bathroom about taking out his Aunt. Things get even more complicated when the high tech assassin, the Beetle, who is out for revenge against Coulson. The Beetle fires a missile at Aunt May, but is deflected by Coulson using a tray and the patrons escape. They battle the Beetle who attacks with Missiles while Aunt May is escorted to safety by Coulson. Spider-Man threw a piano at the Beetle to no avail, he attacks and the fight leads outside. The Beetle then sets his eyes on Coulson again, but Spider-Man intervenes. The Beetle attacks Coulson who shows his impressive fighting technique. He then disrupts the armor with a fork and smoke bombs in the restaurant to escape, in the meantime he kidnaps Aunt May. Using the Spider-Cycle they track the Beetle to the USS Excelsior. They battle the Beetle on the ship but before he can fire a missile, Aunt May escapes and uses the jet engine to blast the Beetle's armor off, allowing Coulson and Spider-Man to knock him out. He was then cuffed and the S.H.I.E.L.D. was called to take him away. Coulson reveals that he has only the best intentions regarding his Aunt. Coulson escorts May home, but with Peter's approval they continue their date.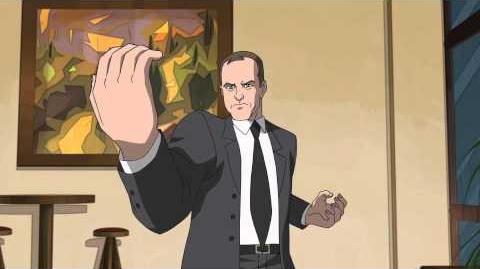 Notes
Trivia
The USS Excelsior is a reference to Stan Lee, and his famous catchphrase "Excelsior!"
See Also
Cast
Recommended Media
Links and References
Footnotes
Community content is available under
CC-BY-SA
unless otherwise noted.