Jurassic World: Dominion Dominates Fandom Wikis - The Loop
Play Sound
Appearances
Featured Characters:
Supporting Characters:
Antagonists:
Other Characters:
Locations:
Items:
Label Maker
Battlebot Spider-Man Suit (made from Vibranium/Adamantium)
Web Cannon 3000
Spinning Arachna-Discs
Impact Force Bubbles
Vehicles:
Synopsis
Scorpio and his Zodiac soldiers have taken over the S.H.I.E.L.D. Helicarrier as the Zodiac capture Spider-Man. Scorpio tells Spider-Man that "Nick Fury is dead." Scorpio states that this is the beginning of Zodiac's new orders as he tries to convince Spider-Man that Nick Fury has lied to him. When Spider-Man made a comment about Scorpio's outfit making him look fat, Scorpio orders his soldiers to destroy Spider-Man. When Spider-Man falls into the Helicarrier, Scorpio orders his soldiers to find Spider-Man and make sure he doesn't get off the Helicarrier. While locating for Nick Fury's secrets, Scorpio tells Aries to find the secrets and then set the Helicarrier to self-destruct. Upon hearing Spider-Man's voice in the air vents, the Zodiac soldiers prepare to fire on the vent that Spider-Man is in as Scorpio hears him. Scorpio then orders his soldiers not to fire on the console. Scorpio then uses the Scorpio Key to attack Spider-Man only for him to escape into the air vents. Upon learning that Spider-Man is topside, Scorpio sends the Zodiac soldiers topside. Nick Fury dives the Helicarrier into the ocean as Nick Fury fights Scorpio. Upon Spider-Man confiscating the Scorpio Key, Nick Fury defeats Scorpio and discovers that is his brother Max Fury. Scorpio escapes into the water as Nick Fury deactivates the self-destruct sequence.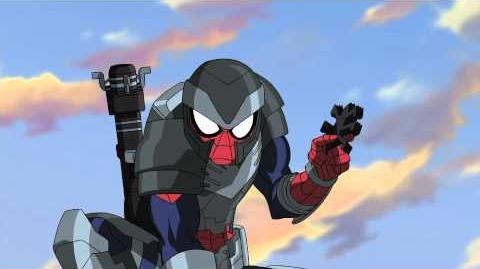 Trivia
This episode make parodied references to the 1981 movie For Your Eyes Only one of the James Bond movies, such as having a similar title.

The episode opens with Spider-Man in a tuxedo in front of a Gun-barrel, a infamous James Bond sequence.
Spider-Man introduced himself with the quote "the name's Man, Spider-Man", a reference to James Bond's opening line.
The next scene showed Spider-Man snow boarding down a mountain while being shot at which is based on the films ski scene.
Nick Fury's security code 007 is reference to James Bonds code number.

The romance novel that White Tiger reads is "Fang Love: A Patsy Walker Romance", the title may also be a reference to one of Patsy's love interests Robert Baxter.

The novel may reference how Patsy's mother based characters in her comic books on Patsy as well as her real-life friends and romantic interests.
See Also
Links and References
References
Like this? Let us know!