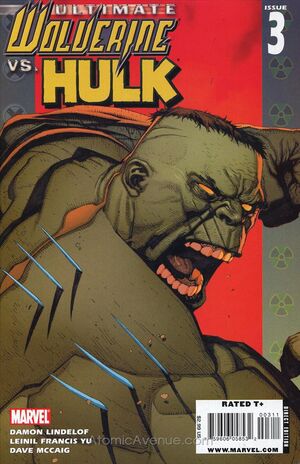 Variant
Second Printing Variant
Second Printing Variant Textless
Original Price
$2.99 (US)
Previous Issue
Next Issue
Appearing in "Ultimate Wolverine vs. Hulk Part 3 of 6"
Featured Characters:
Other Characters:
Races and Species:
Locations:
Vehicles:
Items:
Synopsis for "Ultimate Wolverine vs. Hulk Part 3 of 6"
In a jumble of Wolverine's memories, Wolverine remembers how Hulk and himself ended up in the monastery, and he reflects on how he was given the assignment, and how he met the Hulk, who was living in a monastery in the Himalayas with a harem of Nepalese women from a nearby town. There are various glimpses into Wolverine's memories as he gets his head back in order, bringing himself to set his mind on the current situation.
Hulk stands above Wolverine, asking which of his legs should he eat first. Wolverine refuses to answer, knowing the Hulk is not bluffing about choosing to eat one of his legs. Before the Hulk makes Wolverine's decision for him, Wolverine chooses the left leg, creating a discussion of what the Hulk is really trying to accomplish. No matter what, Wolverine will keep coming after the Hulk, even with a stump for a leg. During their chat, Wolverine and Hulk hear a sonic boom above them, and Wolverine realizes the vehicle dropped something. Before he can remember what fell out of the plane, he takes a step back to remember how the Hulk started fighting him.
Wolverine flashes back to when he caught the Hulk in his harem, being offered a cup of cocoa, which happened before they fought and the behemoth tore the mutant in half.
While Wolverine is hardly phased by the many scantly dressed women, Hulk is curious about who sent Wolverine to kill him, knowing good and well it was Nick Fury. Hulk holds his own, simmering his rage as he saves face with Wolverine. Wolverine has no clue how Hulk became so smart, to which Hulk explains that by putting away all his anger, he discovered so much potential, something he recommends to Wolverine. Wolverine starts to poke at the beast, trying to get him angry by revealing that Betty Ross wants him dead even though she was in control of him the entire time. It is not until Wolverine asks if he can have his way with Betty that Hulk snaps, pummeling Wolverine through the wall outside, and into the side of the mountain.
Wolverine jumps ahead once again, happy to bring us up to speed. Hulk is about to eat Wolverine's leg, but he and Hulk look up into the sky, seeing a fast approaching shape barreling towards them. With a crash and a flurry of dust, the pair looks on as a tall, muscular green woman stands there to greet them.


Notes
Publication Notes
Chronology Notes
This issue is mostly comprised of flashbacks from Wolverine's point of view, and they affect the chronology of the following characters:
Wolverine:
Hulk:
 Pages 9-15 - Wolverine tracks Hulk to the monastery, and they discuss why Wolverine is there, as well as why the Hulk has grown so smart. Wolverine tries to get a rise out of Hulk, and makes an inappropriate comment about Betty, making Hulk punch him, leading to their fight outside in the forest.
Pages 8-9  - Hulk and Wolverine fight in the forest outside the monastery, moments before Hulk rips him in half.
 Panel 2 of Page 3 to Page 7  - Hulk and Wolverine discuss which of his legs Hulk will eat, but they're interrupted by a sonic boom in the sky.
Betty Ross:
 Pages 17-18 - Betty jumps out of the jet, the source of the sonic boom, and the Hulk and Wolverine look up and see her falling.
Pages 17-18  - Betty lands, and reveals herself as She-Hulk to Wolverine and Hulk.
See Also
Footnotes
---
---
Community content is available under
CC-BY-SA
unless otherwise noted.