Like the refuse who once lived on this ground -- all will burn at the touch of Genocide!

-- Genocide
Appearing in "Dark Angel Saga Chapter 5: Tabula Rasa"
Featured Characters:
Villains:
Other Characters:
Species and Races:
Locations:
Items:
Vehicles:
Synopsis for "Dark Angel Saga Chapter 5: Tabula Rasa"
Pestilence tries swaying Psylocke to believe in Archangel's "beautiful dream" for the future. Psylocke manages to grab a knife and manages to escape Pestilence, only to be stopped by the AoA version of Blob.
Meanwhile, in the wasteland of where a former Montana town once stood, Archangel and his followers enlargen the World and use it and a small fraction of the Life Seed's power, to accelerate evolution in the area, creating a Tabula Rasa sphere.
X-Force is on their way to intending to stop Archangel's mad plans. As they venture through the newly formed jungles, Archangel ambushes them and cuts Deadpool to pieces. In a rage, Fantomex tackles him. As Deadpool pulls himself back together, Death and Famine bear down on them. With no choice, the Deathlok AI relinquishes control to his psychopathic human host, who swiftly kills Death, proving immune to disease, as his body is already dead. Meanwhile, Fantomex tells Archangel that he has a smart bullet that can't miss its target. He fires and it misses, or so Archangel thinks. It comes around and strikes him on the head, actually hurting him. But Archangel has no time for him, leaving Genocide to deal with his former comrade. Fantomex retreats back to E.V.A., where his comrades have captured Famine. Deathlok is successful in forcing him to divulge the location of the Akkaba City.
Archangel and Dark Beast head to San Francisco and enter the Dreaming celestial. With promises to accelerate evolution, he is given the Death Seed to make Psylocke his Horseman of Death.


Solicit Synopsis
Genocide has incinerated half of Wolverine's body, leaving only two remaining members of X-Force to defeat Archangel and his army. Someone has wiped out a small town in Northern Montana and in its place a new alien landscape has grown. What is Tabula Rasa? Can Fantomex and Deadpool work together to survive its harsh terrains long enough to unlock its mystery? The acclaimed team of Rick Remender (Venom, Punisher), Jerome Opeña (Punisher, Moon Knight) and Dean White (Avengers) return to introduce you to the strangest territory in the Marvel Universe.


Trivia
Kelby Tak... looks very similar to Kro.
Statues of "former" Apocolypse's appeared later in an avengers mission aboard another ship of celestial origin.
See Also
Links and References
Footnotes
---
---
Reviews
Another issue to be loved of Uncanny X-Force. Another issue with a 5 out of 5 stars. Another sentence added and I don't know why.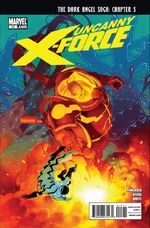 Seriously, if you haven't picked up a single issue of Uncanny X-Force yet, you kind of have to. Especially for the Dark Angel Saga. Plenty of villains, realities, and characters-this story arc should not be missed.

So Archangel/Apocalypse and friends are messing with the Tabula Rasa and the Life Seed. Yeah, most of this stuff won't make sense to you unless you've read the past book(s)-which you should. Basically, they were testing evolution in The World, to see how Apocalypse would fair as ruler of a new world.

A lot of what is happening seems too tough for any X-Men or anyone else for that matter to not know about it. But who really cares? As long as it is a great story, I don't think it should matter so much. This one did have a great story, so no problem.

So much action. I still kinda despise Deathlok, but at least they gave him Wolverine-like claws. And he killed Death, so that was pretty awesome. And he was a pretty good torturer, so fine, he's not too bad. And of course there is Genocide who is overall a badass character.

Not really much else to say that hasn't already been said or that would spoil a lot more. Great book gets a great rating. 5 out of 5 stars easily and this is a book not to be missed, nor any in this story arc.

Johnnybravo44 (talk) 00:03, September 23, 2011 (UTC)
Community content is available under
CC-BY-SA
unless otherwise noted.