Bold
Warning! This comic has a recent publication date, thus the article below may contain spoilers!
Read beyond this point at your own risk!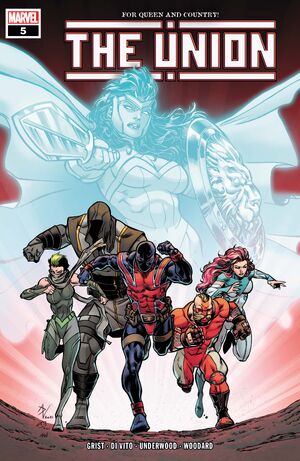 Garbett Variant
Previous Issue
Next Issue
—
Appearing in "Britannia Project Part Five: Meet the New Emperor"
Featured Characters:
Supporting Characters:
Antagonists:
Other Characters:
Races and Species:
Locations:
Items:
Synopsis for "Britannia Project Part Five: Meet the New Emperor"
Steve Darwin has claimed the Empire stone, and only Doc Croc's gang are left standing to face him. Revealing that the entire Britannia Project was a scheme to gain access to the stone, Darwin thanks Croc for his accidental assistance. Craig the Corgi spots Union Jack rising to his feet and glowing, and Jack pushes aside Croc who attempts to strike him from behind. Skreem shields Jack with a sonic barrier, throwing away her mask and declaring herself The Choir. As the stumbling Union Jack reaches Darwin, the ghost of Britannia explodes free of Jack's chest and attacks Darwin, though she is caught easily and thrown to the ground. Darwin invites her to watch him destroy the British Isles, starting with blasting the roof off the Keep as he leaves. The weakened ghost of Britannia calls to the other heroes, explaining that she cannot do this alone and she needs their help. Croc's team flee the Tower, while the cowering Selwyn James hides with a mace in a store-room and is discovered by Craig. At Tower Bridge, Darwin stops to proclaim the dawning of a new age, and realising he intends to reach Downing Street Union Jack commandeers a taxi. Aiming to distract Darwin and buy time for Union Jack, Snakes hurls Bulldog onto the bridge and the heroes mount an attack on Emperor. While Snakes rescues an endangered civilian the crowd rejects the heroes, and Darwin leaves, declaring they're unfit to protect the people, as they are only "a bunch of freaks and monsters."
As Darwin arrives at Downing Street so too does Union Jack, crashing the taxi into the superpowered villain. Darwin snaps Jack's wrist and hurls him into the wall, explaining Joe is the weakest of all his team. As Darwin rings the doorbell of 10 Downing Street he is attacked by Croc's gang and defeats Volcanna and Lady Shimmering Lights. Britannia rouses Union Jack, explaining that he has carried her spirit within his body, protecting and empowering him- he was never useless, or weak, and is the only one who can save them. Drawing back his broken arm and full of Britannia's strength, Jack knocks Darwin unconscious. Doc Croc retrieves the stone from Darwin's hand, only to have it stolen and swallowed by Craig—who is revealed not to be the real Craig, but Selwyn James, Sponge, using Shifter's stolen transformative power. Sponge and The Choir turn on Doc Croc, and he is captured after a sonic blast.
Three days later, Selwyn James visits Union Jack in hospital to update him. Doc Croc is locked up in Belmarsh, Steve Darwin's technology company collapses and the ghost of Britannia takes her leave, to return in Britain's darkest hour. The Britannia Project are not contactable, but have stuck together, which is no issue for Jack or James as James has been reshuffled to the department for Environment. The Empire stone has been left at 10 Downing street, fresh from Sponge's doggy digestive system.


Solicit Synopsis
THE DRAMATIC FINALE!
• Doc Croc has defeated Union Jack and the team!
• But can this truly be the end of the line for our new heroes?
• Or can they receive one last push to pull it together?

See Also
Footnotes
---
---