This nation was founded on one principle above all else: the requirement that we stand up for what we believe, no matter the odds or the consequences.
History
Overview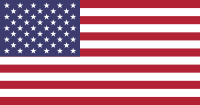 United States of America is a Constitutional Federal Republic in North America. The country is made up of 50 States. The capital city is Washington, D.C..
Events
Locations
Points of Interest
Residents
Alternate Realities
In Earth-8101, a universe inhabited by apes instead of humans, the United States goes by the name the United Simians of America.[1]
See Also
Links and References
References
Like this? Let us know!