History
Overview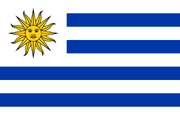 Uruguay is a country located in southeastern South America. Its capital is Montevideo.
Events
Cable went on a misiion to the Cordillera de Carabaya was a rugged mountain pass in Uruguay.[1]
Alternative Realities
Earth-1610
In the Ultimate Universe, Uruguay was in a conflict with its bordering country, Argentina, which escalation hinted the possibility of a full-scale invasion from Argentina. When the United Nations took actions, the Ultimates member Tony Stark used a remotely controlled Iron Man armor to support the S.H.I.E.L.D. forces, he discovered a Stark Industries nuclear bomb in one of the ships, hidden by the Kratos Club.
The dirty bomb detonated near Montevideo, destroying part of the city, killing approximately 300,000 people, which number would have to be doubled, including the radiation poisoning.
The plan of the Kratos Club was to use the bomb and cause a short-sell in the global markets, winning billions of dollars in the process, in order to achieve their plan of global control for the best of humanity.

Points of Interest
See Also
Links and References
Footnotes
Community content is available under
CC-BY-SA
unless otherwise noted.