BR4DD3RS09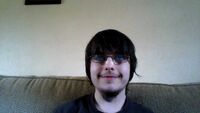 Aliases
BRADDS,9,SAM,LEGEND,WOLF,king
Affiliation
X-Men, Avengers, Fantastic Four, Deadpool
Relatives
JO (mum) Paul (dad) ben (bro)
Base Of Operations
Xavier Institute, Avengers Tower, MY Room
Characteristics
Unusual Features
Animal-like canine/vampire teeth good smell
Status
Occupation
gamer, adventurer , student, helper and king
Origin
Creators
JO (mum) And Paul (dad)
First appearance
9,7,1994 UK
Powers and Abilities
Powers
Regenerative healing factor , Superhuman senses sharp canines martial artist good at Gameing Power Absorption
Abilities
Regenerative healing factor , Superhuman senses sharp canines martial artist good at Gameing Power Absorption
Strength level
helping people
Weaknesses
water

Paraphernalia
Equipment
PC and Xbox 360 and TV
Transportation
CAR or my space ship
Weapons
WHO needs them lol !!!!

Notes
@swanton09 hi I am a big marvel fan
im getting all £600 of these http://www.graphicnovelcollection.com/collection.html
and I getting all of deadpool kills by the legend https://twitter.com/cullenbunn
and a big shout out to @TheRealStanLee and to rest of you lot :P
1 of my bigist dreams is to be in a comic so I can frame it and have it on my cv  :)

Trivia
big marvel fan
See Also
Community content is available under
CC-BY-SA
unless otherwise noted.