Der rote Kampfflieger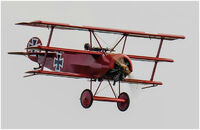 Real Name
None of your business
Current Alias
Der rote Kampfflieger
Aliases
Darth X, Darth X the Great
Base Of Operations
Germany
Characteristics
Status
Occupation
Editor on this database
Origin
Place of Birth
Anhalt-Bitterfeld, Saxony-Anhalt, Federal Republic of Germany
First appearance
I don't know
History
Notes
I'm now concentrating on creating every Axis member from the 1938 - 1945 Timely comics. Eventually other Axis members from the "newer" comics too.
What I do
Nazis or other Axis villains
Punisher villains
Roxxon employees
List of Generalfeldmarschalls (General field marshals)
Current
Former
Herr Kopf - Generalfeldmarschall who was imprisoned in a concentration camp located in Canada
Important pages I'm currently working on
To do list
Pages that need to be created
Missing Nazis
Missing Imperial Japan members
Powers and Abilities
Powers
None
See Also
Links and References
Community content is available under
CC-BY-SA
unless otherwise noted.